Murang'a County
Introduction
It is in the former central province. Its capital and largest town is Murang'a which was called Fort Hall in colonial times.
It is considered home of the Gikuyu and has a population of 942,581 according to2009 census.
Over the years, Murang'a has become a site for placement of Peace Corps volunteers. Murang'a County borders Nyandarua to the west, Embu to the east, Nyeri to the north, Kiambu to the south and Machakos and Kirinyaga counties to the southeast and the northeast respectively.
Majority of the residents of this county belong to the mainstream Christian denominations including catholic and Protestants.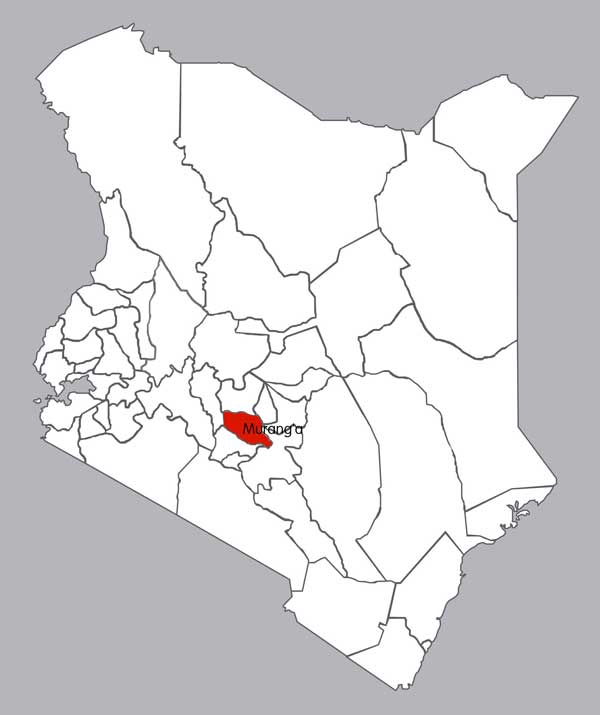 Constituencies
It consist of 7 constituencies
Kangema Constituency
Kigumo Constituency
Kandara Constituency
Kiharu Constituency
Mathioya Constituency
Gatanga Constituency
Maragwa Constituency
Physical features
Murang'a is also the source of many big rivers:
River Maragua which originates from the heart of the Aberdare ranges.
River Mathioya,
River Kayahwe,
River Irati,
River Muriurio
Mountains
Hills
Kakuzi Hills
Kiambicho Hills
Maji Tamu Hills
Importance of physical features
Tourist Attraction.
The forest is a water catchment areas.
They provided places for worship.
Natural habitat for animals and birds.
Main types of natural vegetation
Importance of vegetation
Abendare forest forms the natural habitat to wildlife
Map of the Distribution of natural vegetation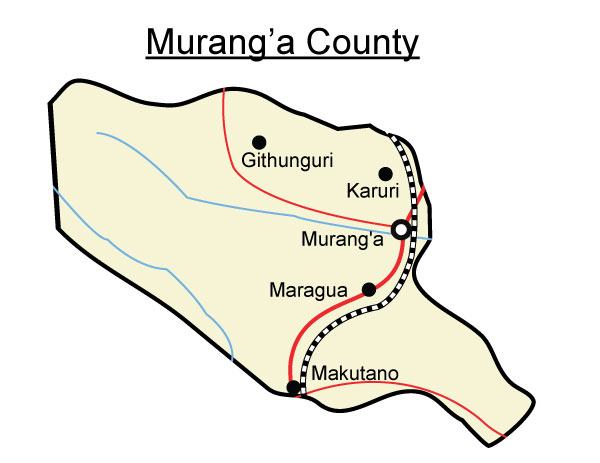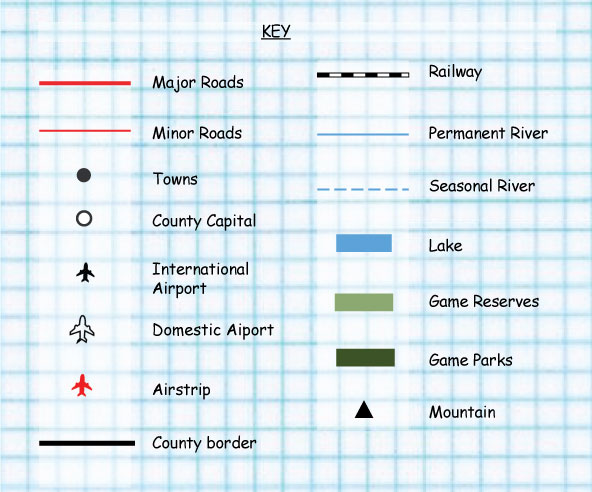 People and population
Language groups
The dominant language group in the area is the Gikuyu
Other communities including Kamba, Meru, Embu, Luhya and Indians who are primarily involved in running small to medium-size trade businesses in major towns of the county.
Areas of high population density
Murang'a town has the highest population
Areas of low population density
Gatanga Constituency
Maragwa Constituency
Social relations and cultural activities
The traditional way of life
Food
Gītheri (maize and beans), Mūkimo (mashed green peas and potatoes), Kīmitū (mashed beans and potatoes), Irio (mashed dry beans, corn and potatoes), Mūtura (sausage made using goat intestines, meat and blood), Ūcūrū (fermented porridge made from flour of corn, millet or sorghum)
Dressing
They have different types of clothing for different age sets, Children wear animal skins around their waist, and the upper body normally has nothingThis was also done by men, they covered themselves up to the knees with shukas.Women normally had their whole bodies covered with a shuka that is tied on their left shoulder and extends all the way to their ankles. They also wear earrings, necklaces, bracelets and anklets that are made from multi-colored beads and cowrie.
Songs and dances
Song and dance was a way for young girls and boys to find their soul mates.It is also a source of entertainment. The tribe travels to less populated areas to respect the culture of dancing and feasting. This was a time for happiness, peace, and fun. The people of the Kikuyu tribe also have dance troupes or tribal groups that perform certain dance rituals or routines. These dances also tend to represent their values and beliefs. Unlike how we Americans dance today, Kikuyu men do not touch their women in any kind of way.
Dancing is well respected and sexuality is viewed and observed which is why touching while dancing is not allowed. They also use their dancing socials to mingle and socialize. Just like other cultures such as Cubans and Americans, the kikuyu tribe has numerous types of dances such as, Nguchu, Nduumo, Mugoiyo, Gichukia, Ndachi ya irua, which all have a story or deep meaning behind them.
Traditional medical practices
Collective tribal prayers and ceremonies were held under a Fig tree, Mugumo, facing Mt. Kenya but at a personal and family level all religious and magical practices centered around the Nyumba. Father C. Cagnolo in his book, The Akikuyu, 1933, records one such magical ritual where a medicine man is called by the family to undo a spell cast on a child.
Ceremonies and festivals held
Ceremonies
Birth marked the beginning of life in traditional African societies. Various Kenyan communities had various songs and dances to mark the birth of a child. The kipsigis for example had the Yasset which they sung at the birth of a child. People danced not vigorously and it was strictly a dance for women. The husband stayed away from the house and only got information by women singing the Yasset.
The Kikuyu observe a unique ritual pattern of naming children, still followed strongly today. The family identity is carried on in each generation by naming children in the following pattern: the first boy is named after the father's father, the second boy after the mother's father. The first girl is named after the father's mother, the second after the mother's mother.
For one to be up-graded from one age-group to another, from one class to another, he or she had to pass through certain rites. One such rite was initiation after which one graduated from childhood to adulthood. Initiation took various forms including circumcision, scarification and removal of lower teeth.
Festivals
They performed during drought to ask God to send them rain or to stop rain due to heavy flooding. Some songs were performed to thank God for the good harvest He had given to His people. During such occasions they offered sacrifices and also gave tithes.
The Agikuyu for example had a music known as Mucungwa, a dance where girls and boys danced during and after harvest. They danced in two lines facing each other with some movements to the accompaniment of leg rattles worn by boys.
The people of the Kikuyu tribe also have dance troupes or tribal groups that perform certain dance rituals or routines. These dances also tend to represent their values and beliefs
Resources and economic activities
Agriculture
Main cash crops include:
Food crops include:
Maize
Beans
Sweet potatoes
Arrow roots
Pumpkins
Bananas
Areas where the cash crops are grown
Tea is grown in:
Githambo
Gatunguru
Kanyenya-ini
Kiru.
Coffee is grown in:
Kanyenyaini
Mihuti
Gathima
Kiharu
Types of livestock kept
Fishing
Areas where fishing is practiced
Aberdare Cottages and Fishing Lodge Murang'a.
Forestry
Major forests
Wildlife and Tourism
Type of wildlife
Fish
Monkeys
Wide range of birds
Game parks and reserves
Major tourist attractions
Mukurwe Wa Nyagathanga shrine
Aberdare National Park
Rapids Camp Sagana
Ndaka-ini dam
Forthall Monument.
Industries
Traditional industries
Mining including bricks for building
Tourism
Farming
Trade
Major trading centers