Introduction
Kitui is a county in the former Eastern Province of Kenya. Its capital and largest town is Kitui, although Mwingi is also another major urban centre. The county has a population of 1,012,709 (2009 census. and an area of 24,385.1 km². The name Kitui means 'a place where iron goods are made'. The Kamba iron-smiths who settled in the county many years before the colonial period are the ones who named the area Kitui.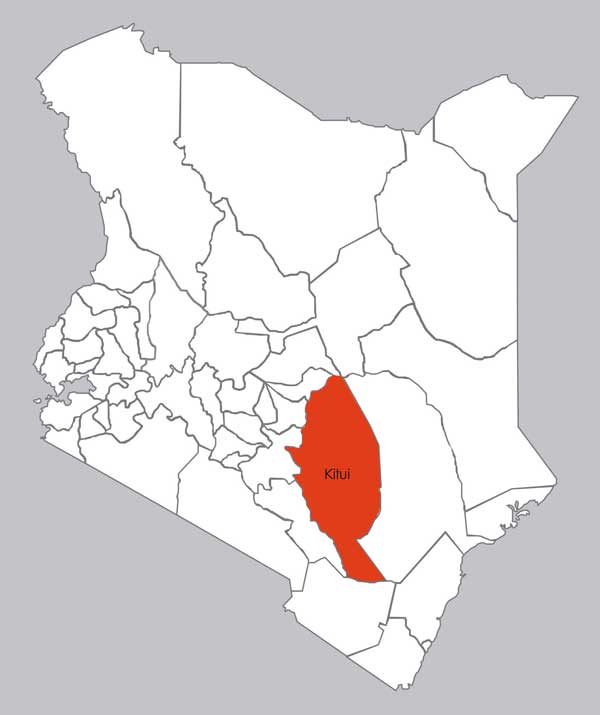 Constituencies
It consist of 8 constituencies
Mwingi North
Mwingi West
Mwingi Central
Kitui West
Kitui Rural
Kitui Central
Mutito
Kitui South
Physical features
Rivers
Lakes
Mountains
Hills
Kitui hills
Mua-lveti Hills
Plains
Valleys
Importance of physical features
Tourist attraction
Home to plants and animals
Hills and montain tops were places of worship.
The main types of natural vegetation
The importance of vegetation physical features
Natural habitat to birds and animals
Provide food for both domestic and wild animals
Contribute to the climate of the region
Map of the Distribution of physical features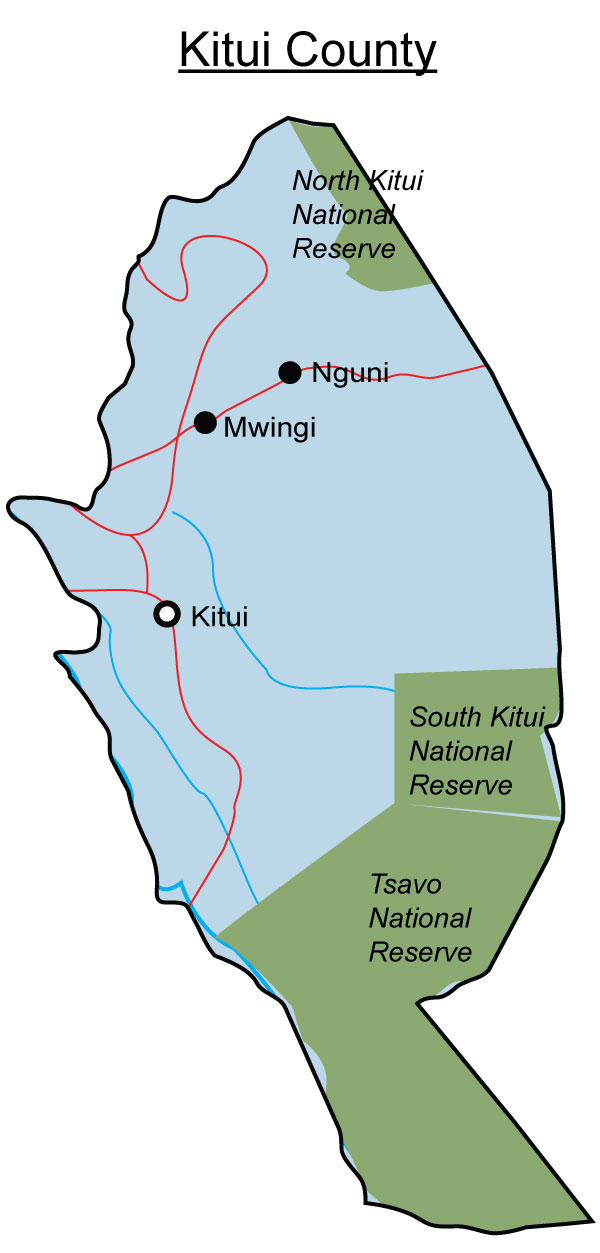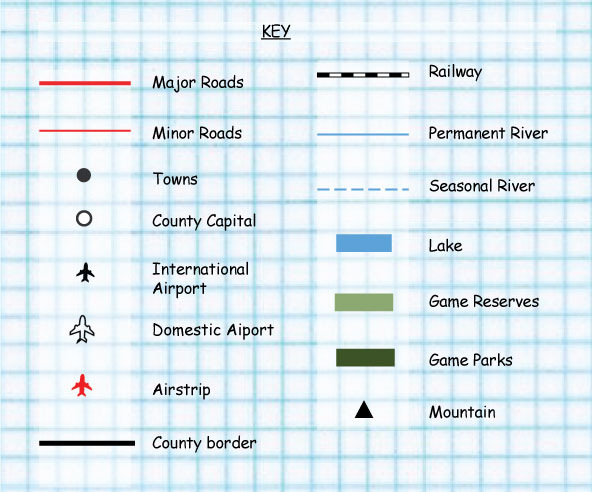 People and population
language groups
The main residents are Kambas - the fifth largest tribe in Kenya. Kambas are famous for their wood/soapstone carving and basket weaving skills. They are also involved in livestock rearing, subsistence farming and hunting. Other communities who live in the county in small numbers include Ameru, Tharaka, Aembu, Kikuyu and Somali, who primarily do business or are in formal employment. Majority of the people living here are Christians.
Areas of high population density
Kitui, Mwingi, Mutomo, Kwa Vonza, Mutito, Ikutha, Kabati, Migwani, Mbitini and Kyuso.
Areas of low population density
Social Relations and Cultural Activities
The traditional way of life
Food
The cuisine in Kitui consists largely of traditional African dishes. Chapati (almost like tortillas), ugali, isyo (well-seasoned mix of beans/peas and maize, sometimes with pumpkin and leafy vegetables added), or rice served with goat meat, chicken, and/or cooked vegetable stew are common dishes.
Dressing
Traditionally, both men and women wore leather sandals especially when they ventured out of their neighborhoods to go to the market or on visits. While at home or working in their fields, however, they remained barefoot. School children, male and female, shave their heads to maintain the spirit of uniformity and equality.
Songs and dances
Dances are usually accompanied by songs composed for the occasion (marriage, birth, nationally important occasion), and reflect the traditional structure of the Kikamba song, sung on a pentatonic scale. The singing is lively and tuneful. Songs are composed satirizing deviant behavior, anti-social activity, etc. The Akamba have famous work songs, such as Ngulu Mwelela, sung while work, such as digging, is going on. Herdsmen and boys have different songs, as do young people and old. During the Mbalya dances the dance leader will compose love songs and satirical numbers, to tease and entertain his / her dancers.
Traditional medical practices
They had medicine men who were highly respected in the society. It was considered as a gift from God. The medicine man title was hereditary, it was a role that one prepared for a life time before actually being one of them. They gathered herbs, different herbs were used to treat different illnesses. It took a long while to study these herbs .
The ceremonies and festivals held
Ceremonies
Naming of children is an important aspect of the Akamba people. In most but not all cases, the first four children, two boys and two girls, are named after the grandparents on both sides of the family. The first boy is named after the paternal grandfather and the second after the maternal grandfather. Girls are similarly named. Because of the respect that the Kamba people observe between the varied relationships, there are people with whom they cannot speak in "first name" terms.
Festivals
Being a dry area the Kamba people celebrated a good harvest with songs and dance to give thanks for a good harvest.
The Akamba people's love of music and dance is evidenced in their spectacular performances at many events in their daily lives or on occasions of regional and national importance. In their dances they display agility and athletic skills as they perform acrobatics and body movements.
Resources and economic activities
Agriculture
The main cash crops and food crops grown
cotton, tobacco, sisal, mangoes, maize, beans, cassava, sorghum, millet and pigeon peas. These crops are well adapted to the climatic conditions of Kitui.
The areas where the cash crops are grown
The types of livestock kept
Fishing
The areas where fishing is practiced
Forestry
Major forests
Endau forest
Kitui forest
Kavonge-Museve forest
Wildlife and Tourism
The type's wildlife
Aardwolf, yellow baboon, bat, Cape buffalo, bushbaby, bushbuck, caracal, African wildcat, Tanzanian cheetah, African civet, dik-dik, African hunting dog, African dormouse, blue duiker, bush duiker, red duiker, eland, elephant,
The game parks and reserves
Tsavo East National Park in Mutomo
South Kitui National Reserve
Mwingi National Reserve
The major tourist attractions
Tsavo East National Park
South Kitui National Reserve
Mwingi National Reserve
Nzambani Rock
Ikoo Valley and Ngomeni Rock Catchment and Conservancy
Industries
Traditional industries
Mining - sand
Agriculture- cotton
Ironing making
Trade
The major trading centers
Kitui, Mwingi, Mutomo, Kwa Vonza, Mutito, Ikutha, Kabati, Migwani, Mbitini and Kyuso.