Makueni County
Introduction
Formerly known as Makueni, it is in the former eastern province of kenya. The capital town is Wote. It geographically borders Kajiado County to the West, Taita Taveta County to the South, Kitui County to the East and Machakos County to the North.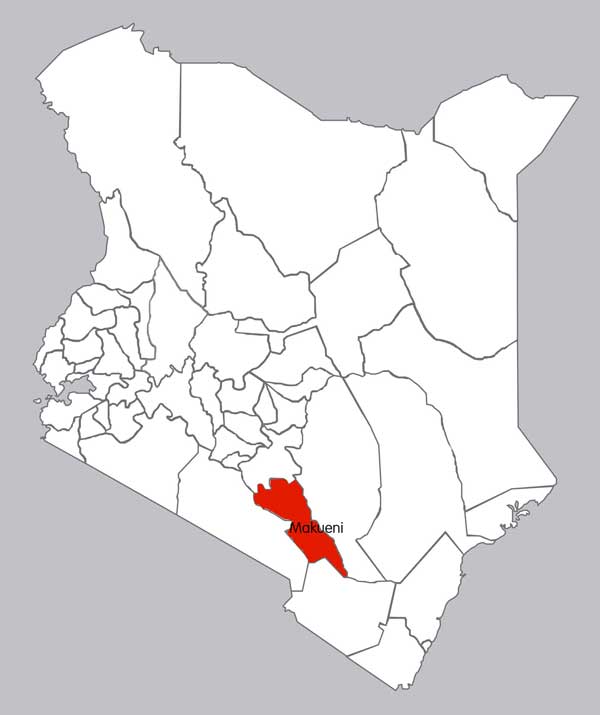 Constituencies
It consist of 6 constituencies
Mbooni Constituency
Kilome Constituency
Kaiti Constituency
Makueni Constituency
Kibwezi West Constituency
Kibwezi East Constituency
Physical features
Rivers
Muoni river
Muuani River in Mukaa
Chakatsu
Chiwa
Chania
Liuni
Ikondeni
Ikumba
Hills
The volcanic chyulu hills
Iuani Hills
Mbooni hills
Kilungu hills
Plains
Valleys
Importance of physical features
The provided places for worship to the people
Source of income to the people of the area through tourist attraction
Types of natural vegetation
Arid vegetation
Semi-arid vegetation
Forest vegetation
Importance of vegetation
Contributes to the climate of the area
Source of food for plants and animals
Provides a natural habitat to wild animals and birds
Map of the Distribution of physical features


People and Population
Language groups
The dominant tribe in this county are the Akamba people
Areas of high population density
Okia
Upete
Twanduu
The aeeas with most people are :
Wote
Mtitu Andei
Kibwezi
Emali
Areas of low population density
Mulala
Darajani
Luani
Maikuu
Kalii
Social relations and cultural activities
The traditional way of life
Food
The Akamba tribes were mainly farmers, Bee keepers, as well as livestock. Their typical food is "Muthokoi" (meaning grounded maize and beans cooked), sweet potatoes and "Kikwa"(meaning yam) among other foods.
Dressing
Men wore leather short kilts made from animal skins or tree bark. They wore copious jewellery, mostly made of copper and brass. It consisted of neck-chains, bracelets, and anklets.
Songs and dances
Songs and dances were performed by women and comprised of two kilumi drums played with the ululations and singing of a lead singer backed by two other women vocalists. Basically, the drummers compose and sing too. Formerly for old women, kilumi is now danced to even by men, and kilumi is one of the few songs and dances that traditionalists still perform in Ukambani. One session of the kilumi dance could last about half an hour, and the entire performance went to almost 8 hours.
Traditional medical practices
They traded in medicinal products known as 'Miti', made from different parts of the numerous medicinal plants. Maingi Ndonye Mbithi, commonly referred by his peers and locals as Kanyi, from Kimutwa village in Machakos was best known for his concoction of herbs mixed with locally fermented brew (kaluvu) with the ability to heal cancerous boils (Mi'imu)
Ceremonies and festivals held
Ceremonies
Naming of children is an important aspect among the Akamba. In most cases, the first four children, two boys and two girls, are named after the grandparents on both sides of the family. The first boy is named after the paternal grandfather and the second after the maternal grandfather. Because of the respect that the Kamba people observe between the varied relationships, there are people with whom they cannot speak in "first name" terms.
Initiation into adulthood was marked with circumcision, for both male and females.
Festivals
Kisanga was a thanks giving dance for everyone , both young and old. It is performed only when the village has had a good harvest. A white goat is slaughtered during this performance, its blood poured under the Kitutu Tree, and its meat left near the tree for their god Mulungu.
The Kamba had a musical bow to which is attached a gourd resonator. The playing technique was unusual: whilst beating the string with a stick to produce a single note, the performer sings into the hollow gourd. The instrument was played by medicine men while treating patients, and the Kamba name for the instrument - uta wa mundu mue - literally means 'the bow of the medicine man.'
Resources and economic activities
Agriculture
Main cash crops and food crops grown
Fruits including mangoes, Ovacados and apples
Vegetables
Maize
Areas where the cash crops are grown
Nzaui
Makindu
Kibwezi
Emali
Types of livestock kept
Fishing
Areas where fishing is practiced
Fishing is practised in seasanal rivers ie: rivers Kaiti and Muuoni rivers
Forestry
Major forests
Makueni forest
Nthangu forest
Kathonzweni forest
Kibwezi forest
Wildlife and Tourism
Type's wildlife
Antelopes
All the big five animals including the lion, black rhinoreros, Buffalo, leopard
Birds
Game parks and reserves
Tsavo east nation park
Tasavo west national park
Major tourist attractions
Tsavo east nation park
Tsavo west nation park
Industries
Traditional industries;
Mining- sand and gravel for construction
Basketry
Trade
Major trading centers
Mtitu andei
Mbooni
Kibwezi