Mombasa County
Introduction
Mombasa County is one of the 47 Counties of Kenya. Its capital and the only city in the county is Mombasa. Initially it was one of the former Districts of Kenya but in 2013 it was reconstituted as a county, on the same boundaries.
It is the smallest county in Kenya, covering an area of 229.7 km2 excluding 65 km2 of water mass. The county is situated in the South Eastern part of the former Coast Province.
It borders Kilifi County to the North, Kwale County to the South West and the Indian Ocean to the East. Administratively, the county is divided into seven divisions, eighteen locations and thirty sub-locations.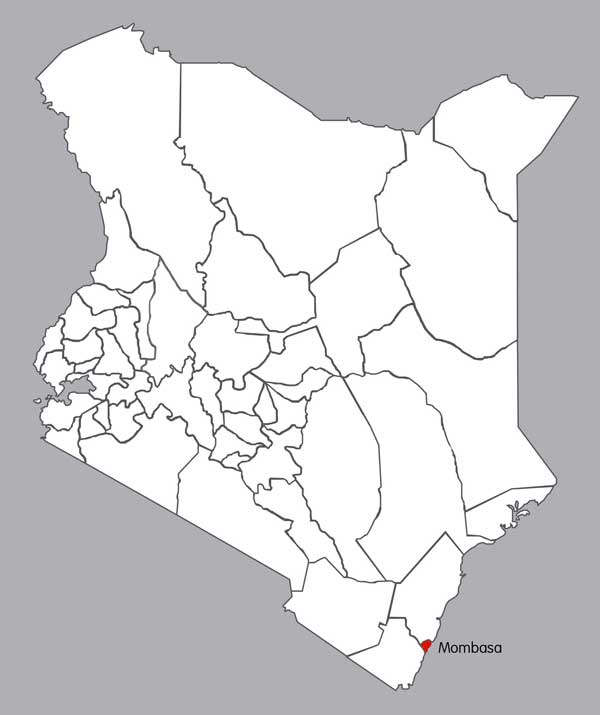 Constituencies
Changamwe
Jomvu
Kisauni
Nyali
Likoni
Mvita
Physical features
Rivers
Hills
Valleys
Importance of physical features
Tourist attraction
Cultural and religious value
Transportation (Indian ocean)
Source of food (indian ocean)
Habitat to animals and fish(indian ocean)
Types of natural vegetation
Forests
Importance of vegetation
Religious importance like places of worship
Natural habitat to birds and animals
Kaya forest is a relief feature
Plants are used for medicinal value
Map of Distribution of natural vegetation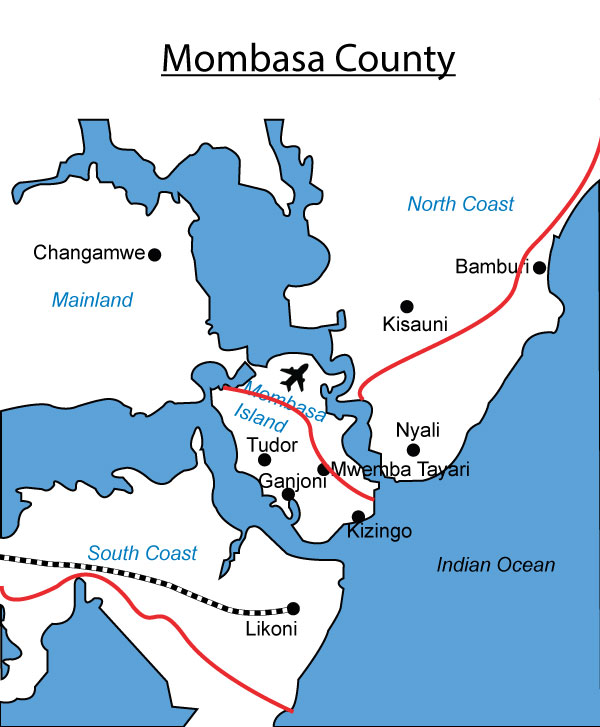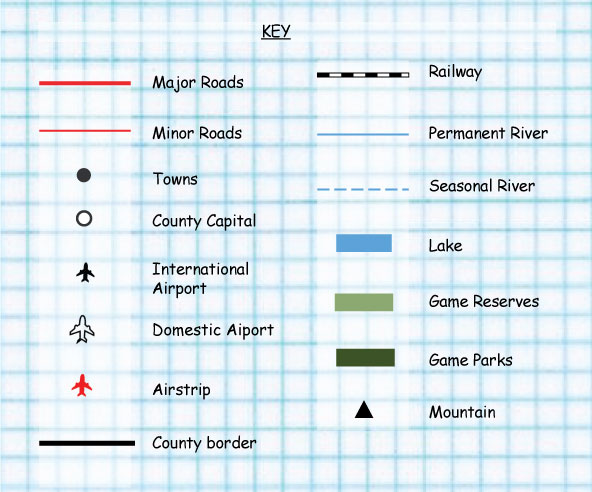 People and population
Language groups
Mombasa has a cosmopolitan population, with the Swahili people and Mijikenda predominant. Other communities include the Akamba and Taita. Bantus as well as are a significant population of Luo and Luhya peoples from Western Kenya. The major religions practiced in the city are Islam, Christianity and Hinduism
Areas of high population density
Kongowea: is a densely populated area with 15 villages, two sub-locations and an estimated population of 106,180 residents
Areas of low population density
Jomvu sub-county has the lowest population
Social relations and cultural activities
The traditional way of life
Food
By religion, Muslim and Swahilis are prohibited from eating pork or drinking alcohol. The Swahili's staple food is of Arabic descent, and most of their cooking is rich in spices. Popular Swahili cuisine includes pilau and wali (rice cooked in coconut milk) served with a thick meat stew or fish. The Swahili tribe eats a lot of different grains, vegetables and fruits, including beans, peas, tomatoes, potatoes, okra, kale, spinach, mangoes, coconut and bananas. Goat meat and chicken are traditionally served during special occasions.
Dressing
The traditional attire of a Swahili man is a long white (or beige) robe (or kaftans) known in Swahili as a kanzu and a small, white, rounded hat with elaborate embroidery. Swahili women dress in long black dresses called buibui, and cover their heads with a black cloth, known as a hijabu. It is also common to find Swahili women wearing a veil to cover their faces.
Songs and dances
Rabai was the most important dance "ngoma" when new year approaches, musicians go to the old folks, taking a goat and some beer "kajama ya tembo" after which the "ngoma ya kaya" will be played. But before playing one of the old folk will pour some beer in his horn, "mboko" pour a little on the ground and sprinkle some from the mouth over all the drums as a way of giving blessings.
Traditional medical practices
The forest flora was used solely for the collection of medicinal herbs.
Ceremonies and festivals held
Ceremonies
Child Naming is not a big ceremony. However ,a small ceremony witnessed by a few relatives and children from the neighborhood. The naming of the baby is done during the third day the new born baby sweets/ biscuits is distributed to the children as "Sadaka" The Baby "anazunguliwa" to wish him/her wellbeing and to be protected from the evil eye and Hasaadi.
Circumcision took place in a forest like place very early in the morning, 4am and it is done by a traditional professional doctor well known to the community. The traditional doctor is always identified by his way of dressing, and would be carrying a small bag containing his charms and traditional medicine. Once he has circumcised, he would then apply the medicine to the wound to stop blood from oozing out and for the wound to heal soon.
Festivals
Taarab music, which originates from Zanzibar, has a prominent local presence. Styles of music native to Mombasa include the smooth and mellow Bango, fast-paced Chakacha and traditional Mwanzele.
Resources and economic activities
Agriculture
Main cash crops and food crops grown
Their most important cash crop is the coconut palm, whose products include oil extracts and palm wine. Its fronds are also used for roofing and as material for making baskets, mats, brooms and other weaved products.
Areas where the cash crops are grown
Bamburi
Kisauni
Nyali
Miritini
Types of livestock kept
Fishing
Areas where fishing is practiced
Fishing is another important economic activity for the Mijikenda people. Mijikenda people actively fish in the neighboring Indian Ocean, where their "daily catch" forms part of the seafood supplied to Kenya's coastal hotels and residents.
Forestry
Major forests
North of Mombasa is the coastal forest of Arabuko Sokoke
Wildlife and Tourism
Type's wildlife
Marine species including crabs, starfish, stone fish, cucumbers sea urchins, corals, turtles, sea grasses and interesting migratory birds including crab-plovers.
Game parks and reserves
Shimba Hills National Reserve
Haller park
Nguuni Wildlife Sanctuary
Mombasa Marine National Park
Major tourist attractions
Fort Jesus
Mamba village
Haller park
Ngomongo villages
Bombolulu workshop
Old town
Pirates public beach
Wild waters, Nyali
Industries
Traditional industries
Fishing
Agriculture -Coconuts
Trade
Major trading centers
Mombasa is a major trade center and home to Kenya's only large seaport, the Kilindini Harbour.