Wajir County
Introduction
Wajir County is a county in the former North Eastern Province of Kenya.
Its capital and largest town is Wajir.
The county has a population of 661,941 and an area of 55,840.6 km².
Wajir County has only one local authority: Wajir county council.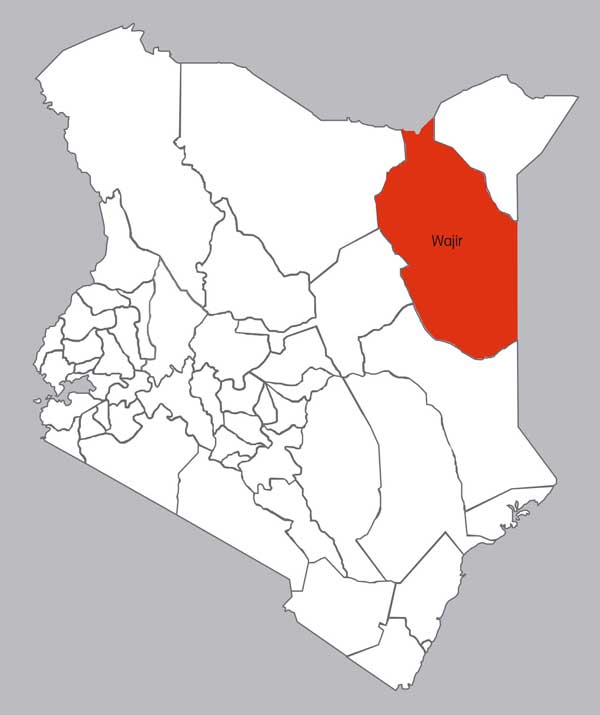 The constituencies
Wajir North
Wajir West
Wajir East
Wajir South.
The main physical features
Rivers
Katulo, Bogal, Bor, Ghorgani . These Rivers are seasonal.
Hills
Plains
Bun Plains
Bilesha Plains
Importance of the physical features
Tourist attraction
They provide natural habitat to plants, animals and birds
The main types of natural vegetation
Forest Vegetation
Semi-Arid vegetation
Importance of vegetation in the county
Provides food for both domestic and wild animals
Contributes to the climate pattern of the area.
Is a natural habitat to a variety of plants and animals.
Map of the Distribution of the natural vegetation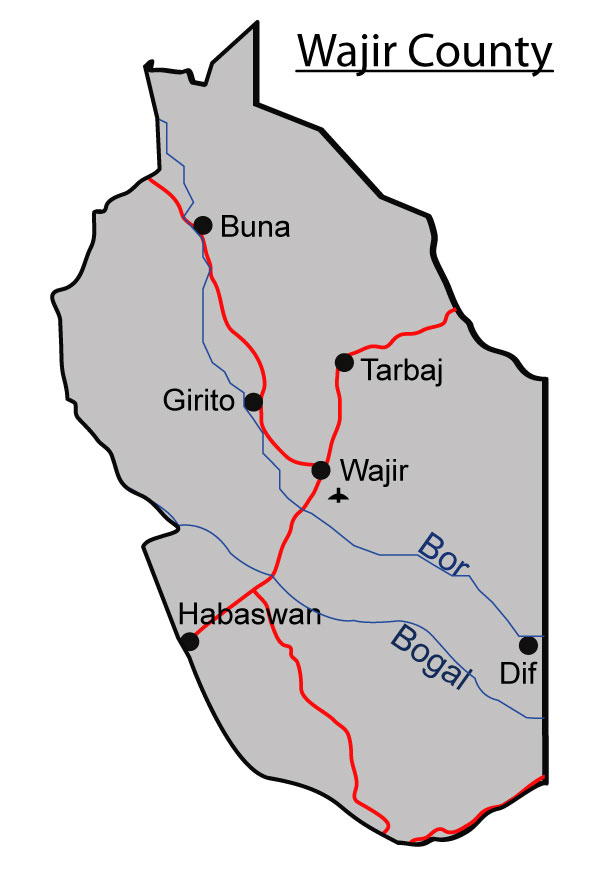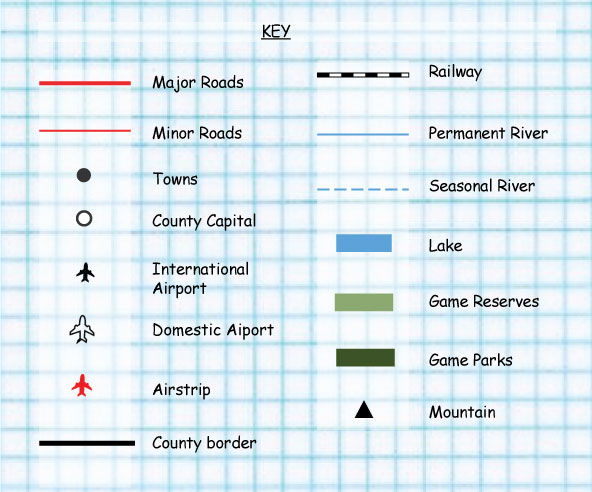 People and population
The language groups found
Wajir is mainly inhabited by Somalis, most belonging to the Ogaden, Ajuran and Degodia clans.
Areas of high population density in the county
Wajir town has the most population
Areas of low population density
Dif and Buna towns have the least population.
Social and cultural activities
The traditional way of life of the people
Food
Somali meals, generally always cooked by the women, are meat driven. Goat, beef, lamb and sometimes chicken
Dressing
An outfit commonly worn by Somali men is a white cotton sheet wrapped around them as a skirt and another white piece used as a shawl. A sarong-like garment, worn around the waist, called a macawiis is typically worn by most Somali men. Some Somali men wear a long ankle-length garment called a khameez. Many Somali men wear a colorful turban or an embroidered cap known as koofiyad on their head. Some men, mainly in the upper class, wear suits and neckties in order to look more western and modern. This is also common garb for Somali business people.
Songs and dances
Dhaanto is a style of traditional Somali music and folk dance. It is specific to certain Somali-speaking areas in the Horn region. The dance-song was revived during the Dervish period in the early 20th century, when it was used to raise the 'spirts' of soldiers and was often sung on horseback
Traditional medical practices
Traditional herbs were used.
The ceremonies and festivals held amongst the people
Ceremonies
Somali names have three parts. The first name is the given name, and is specific to an individual. The second name is the name of the child's father, and the third name is the name of the child's paternal grandfather. Thus siblings, both male and female, will share the same second and third names. Women, when they marry, do not change their names. By keeping the name of their father and grandfather, they are, in effect, maintaining their affiliation with their clan of birth.
Festivals
Women and children were responsible for harvesting. After a good harvest the Somalis prepared a feast where everyone attended. This ceremony was a sign of thanks giving for the good harvest. Music, dance and drama were all performed to mark this ceremony.
They had a style of music and dance known as dhaanto.
Resources and economic activities
Agriculture
Main cash crops and food crops grown
Cotton Farming
Horticulture & floriculture; melons, tomatoes, onions
Sisal growing & processing
sorghum, maize, millet, cowpeas
Areas where the cash crops are grown
The types of livestock kept by the people
Fishing
Areas where fishing is practiced
Fishing is done mainly in wells and dams.
Wildlife and Tourism
The major tourist attractions
Wajir Museum
Wagalla Massacre Site
Orpahey Wells
British & Italian War Bunkers
Old Court House
Yahut Dame.
Industries
The traditional industries
Pottery
The products of traditional industries
Pots
Trade
Barwaqo market
Major trading centres
Wajir town is the main trading town.