Introduction
Kiambu County is located in the Central highlands of Kenya in the former Central Province, close to Kenya's capital, Nairobi. It is a county in the former Central Province of Kenya. Its capital is Kiambu and the largest town is Thika. The county is adjacent to the northern border of Nairobi County.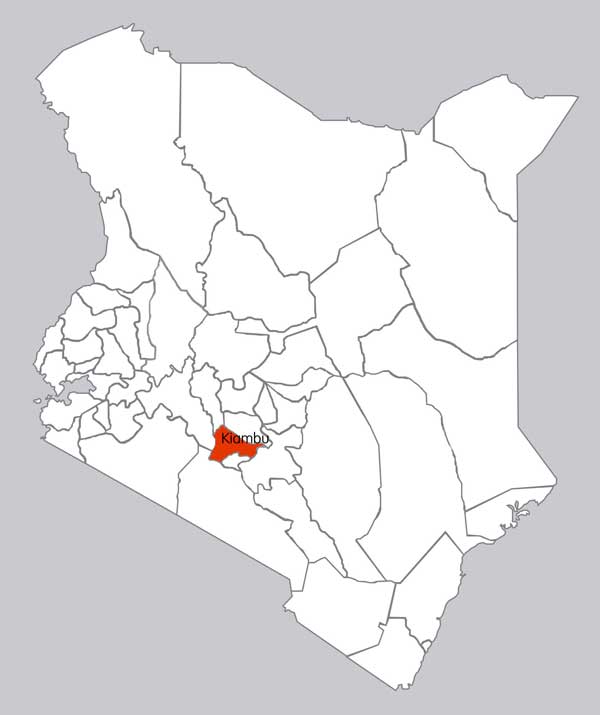 Constituencies
Kiambu county is made up of twelve constituencies, these are:
Gatundu South
Gatundu North
Juja
Thika Town
Ruiru
Githunguri
Kiambu
Kiambaa
Kabete
Kikuyu
Limuru
Lari
Physical features
Rivers
Chania River Water Fall. It is one of the distinctive features of Kiambu it is located just beside Thika road on your way to Murang'a County.
It flows through Kiambu County and is a subject of Tana River. The River forms a psychological boundary between the counties of Murang'a and Kiambu. The Thika River is a significant source of hydroelectric power in Kenya it also provides most of the water supply for Nairobi. The following is Thika Waterfall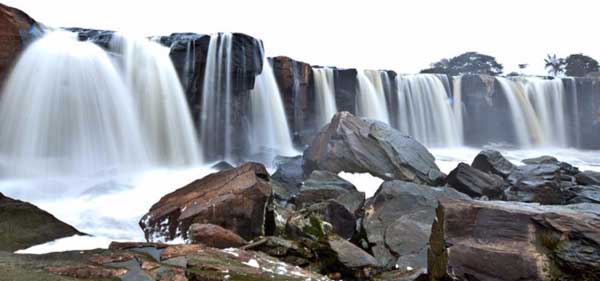 Hills
Harvey Hill
Githingucho
Gikuni
Kiambu
Banana hill
Valleys
The town is located on a gentle plain before the ascent into the central highlands. Small valleys are on the western and northern edges following the Chania and Thika Rivers that have waterfalls and meet on the northwestern edge of Thika. Thika Town is also home to the Fourteen Falls which is located 65 kilometres North East of Nairobi off the Thika-Garissa Road. The Fourteen Falls consist of 14 waterfalls on the broad section of Athi River.
Importance of physical features
Tourist attraction
River Chania and river Thika are sources of water to the county and also to Nairobi.
Banana hills provided a conducive environment for coffee farming.
Types of natural vegetation
Importance of vegetation
Vegetation for example karura forest are home to bird and some animals. These birds are one of the main tourist attractions in the county hence source of revenue to the county
Vegetation brings rain to the county
Vegetation along the rivers prevents soil erosion
Map distribution of physical features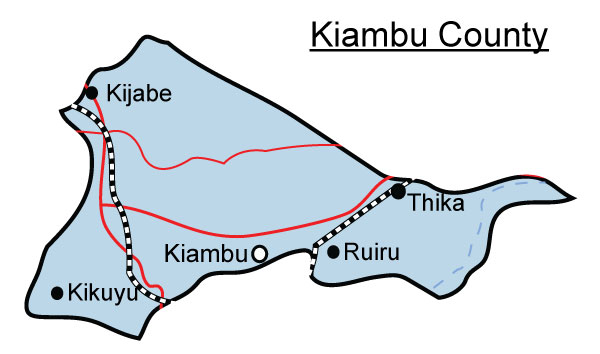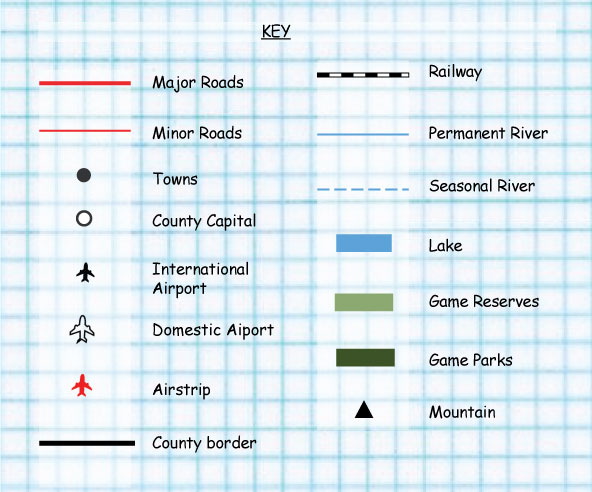 People and population
Language groups found
Most of people living in Kiambu County are Christians. Among other religions living here are Catholic, Presbyterian, Methodist, Baptists, and in small numbers Hindu and Muslim. The Kikuyu people speak kikuyu; a language spoken all over the country English is also spoken in the education sector and as a means of social communication. The Agikuyu belived in an ancestral god; Ngai, He was thought to live on top of Mount Kenya. The locals are believed to have fought and intermarried with the Maasai people from their neighbors in Kajiado. Most Kikuyus have abandoned their beliefs for Christianity.
Areas of high population density
The Census of Population and Housing conducted in 2009 shows that the county had an urban population of 936, 411 in 2009, in 2012 it was projected to be 1,018,773. It is expected to reach 1,108,380 in 2015 and 1,172,453 by the end of 2017.Ruiru and Kikuyu towns have the highest number of people living in urban areas, followed by Thika and Karuri towns respectively.
Areas of low population density
Gatundu North constituency had the lowest population of 109,460 people according to population and housing Census.
Social relations and cultural activities
Traditional way of life of the people
Food
The people of Kiambu are known for yams, cassava and indigenous vegetables.
Songs and dances
The Agikuyu are a musical folk. Music and dance played an important role in traditional life especially during the Mau Mau revolution. The dancing captured the imagination of early white anthropologists and missionaries. Most songs being done vocally, the Agikuyu has few musical instruments.
These are:
Drum (Kĩihembe)
Large rattle (Kĩgamba)
Small rattle (Njigiri)
Flute (Mũtũriro)
Traditional medical practices
Traditionally, people in kiambu county used herbs to treat the sick this is how they were able to treat freedom fighters like the Mau Mau who hide in the forest
Ceremonies
Weddings
Circumcision
Dowery (Rorashio)
Birth and naming
Initiation
Resources and economic activities
Agriculture
Cash crops and food crops grown
Coffee and tea are the main cash crops in the county. The main food crops grown in the county are maize, beans, pineapples and Irish potatoes, also, dairy, poultry and horticulture.
Areas where the cash crops are grown
The cash crops are mainly grown in small scale in the upper highlands of Limuru, Kikuyu, Gatundu North and South Constituencies.
Types of livestock kept
According to 2009 Population and Housing Census, livestock in the county were as follows: 230,294 cattle, 120,056 Sheep, and 89,817 goats. Also, there were 2,600,837 poultry, 46,493 pigs, 13,662 donkeys and 127 camels. In the year 2010, the county produced 267.5 million Kgs of milk and 36.2 million Kgs of beef. Production of mutton was at 106,686 Kgs valued at Kshs.42.7 million. The county had a production of 266.9 million Kgs of eggs, poultry meat produced was 76.2 million Kgs,honey produced was 134,332 Kgs valued at Kshs.67.2 million and 1.8 million Kgs of pork. Growth in this sub-sector has been encouraged by a ready urban market in Thika, Ruiru, Kiambu and Nairobi and the availability of local food processing factories such as Farmers´ Choice Ltd, Kenchic Co. Ltd, Brookside Dairies, Githunguri Dairies, Ndumberi Dairies, Limuru Milk and Palmside Dairies, among others. There are no ranches within the county.
Fishing
Areas where fishing is practiced
Fish farming in Kiambu County has flourished because of the ESP government project introduced by the Minister of Finance. Also, Fishing is carried out in Gatamayu fishing camp.
Forestry
Major forests
The major forests in kiambu are:
Karura Forest
Sigiria karura Forest
Kereita Forest
Wildlife and Tourism
Types of wildlife
The leading wildlife in Kiambu county is birds. Thika sewage is known for bird-watching. With the variety of trees and birds, tourist also visit karura forest for the same.
Game parks and reserves
Major tourist attractions
The major tourist attraction in kiambu are:
Chania falls
Thika Falls
Fourteen Falls
Mugumo gardens
Kereita Forest
Gatamaiyu Camp and Fishing grounds
The Gatamaiyu Riverine Walk
Karura Forest
Thika World War Memorial Park
Mama Ngina Gardens
Industries
Traditional industries
Farming
Livestock keeping
Products of traditional industries.
Maize
Animal prodcuts
Crops
Trade
Major trading centers
The main trading centers in kiambu are:
Kiambu
Kikuyu
Ruiru
Thika