Introduction
Embu County lies some 120 kilometers north east of Nairobi, on south-eastern side of Mount Kenya. The county covers an area of 2,818 square kilometres and has a populations of 543,221 persons. The county borders Tharaka Nithi County to the North, Machakos County to the south, Kitui County to the east, Kirinyaga County to the West and Murang'a County to the south west.
The County is also referred to as Kirimari as its nick name which means "top of the hill" in Kiembu. The people in Embu County are mainly Christians.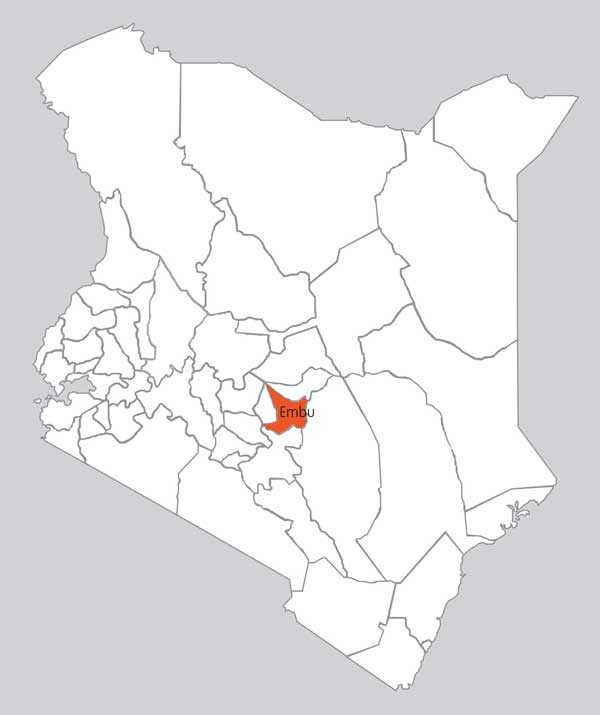 Constituencies
Manyatta
Runyenges
Mbeere North
Mbeere South
Main physical features
Rivers
Embu is served with six major rivers, these are:
Thũci
Tana
Kiĩ
Rũvingasĩ
Thiba
Ĩna
Mountains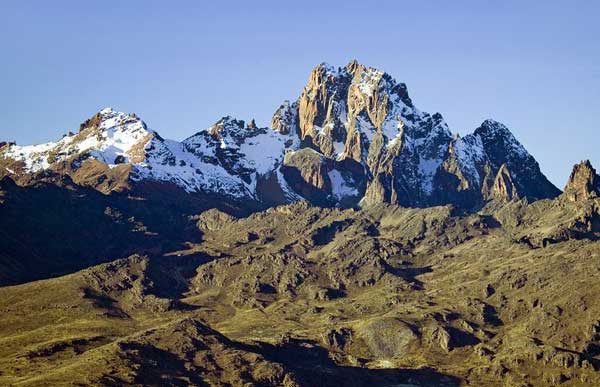 Hills
Kiambere
Kianjiru
Kiang'ombe
Plains
Mwea plains valleys in the south of the county
Valleys
Valleys are in the Northern and Eastern parts of the region
Importance of physical features
Mt. Kenya is a major source of tourist attraction.
Rivers provide fresh water for home and animal consumption.
Much of the land is largely arable and is well watered by the rivers making the area good for agriculture.
Types of natural vegetation
Mt. Kenya and Kirimiri Forests
Importance of vegetation
The forests are a habitat to most animals and a wide variety of birds
Mt. Kenya forest is a main tourist attraction
The forest also is source of traditional medicine and herbs
The natural vegetation is a source for herbs or traditional medicine.
Map distribution of physical features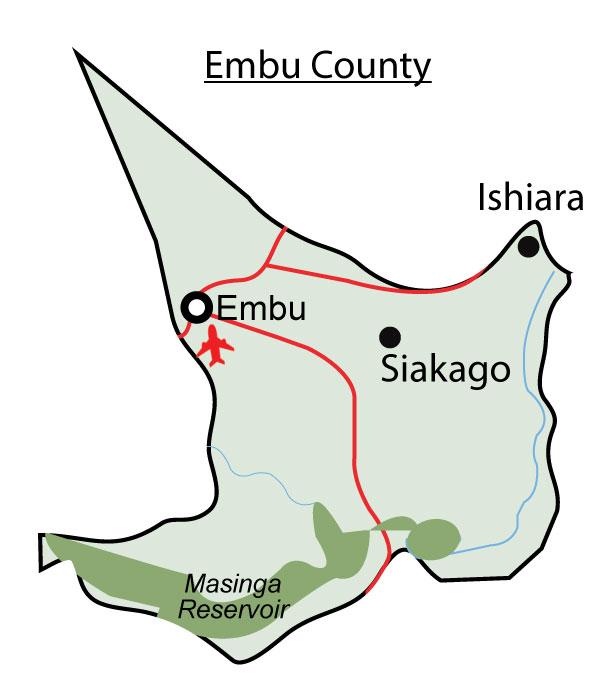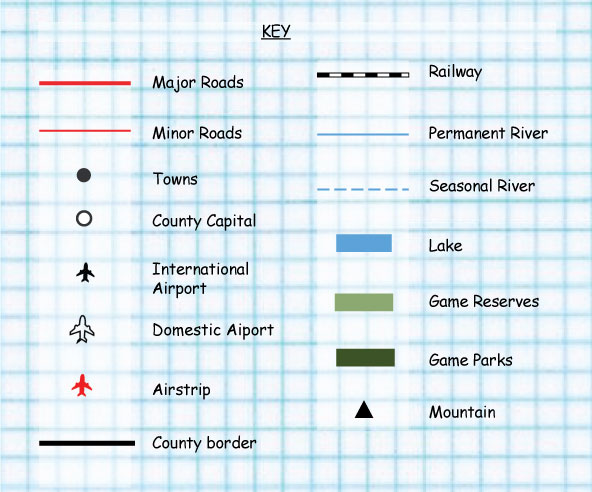 PEOPLE AND POPULATION
Language groups found
The area constitutes of several language groups, these include:
Most of them stay in the watered northern side around Runyenjes, Embu and Manyatta towns. They are mainly famers.
Their main cash crops are Coffee and Team.They also grow food crops like Maize Cassava, Millet and many others.
They are found around Siakago, Ishiara, Kanyuambora and Kiritiri towns. They are small scale farmers mainly bee keeping and livestock rearing. Ishiara is the main market in the area where the products are sold. These people are mainly known for cash crops such as cotton and food crops such as maize, cow peas, beans, pigeon peas and green grams.
They live in Makima which is the lower regions of Embu. While they are natively known for their carving and basketry skills, Kambas also do a lot of subsistence farming, bee keeping and goat rearing in Embu. Some of the crops growing in the area include cowpeas, green grams, sorghum, millet among others.
The Kikuyu people living in Embu County are mainly traders, business people and civil servants working in government corporations and institutions. Apart from being skillful in entrepreneurship, the Kikuyus also like farming and a number of them have bought land and settled in the peripheries of Embu town.
Areas of high population density
Regions with high density are Manyatta and Runyenjes. This is because these are the agriculturally productive areas.
Areas of low population density
Mbeere North and Mbeere South are largely semi-arid with low population density.
Social relations and cultural activities
Traditional way of life of the people
Food
Fermented porridges of maize, millet or sorghum are occasionally eaten, particularly by young children
Dressing
Some girls wore beadwork of white and red while others white and back.
Songs and dances
Circumcised boys and girls had their own songs and dances, as had mature and older people. All had theirs that suited their age and at times sex. Most were very vigorous (like those of the Chuka and Kamba), and acted as physical exercise.
Traditional medical practices
The herbalists were able to identify poisonous plants, by observing the foliage which domestic animals avoided while grazing. In addition, birds and bees avoided nectar from flowers of toxic plants, and through this "traditional taxonomy" plants with thorny leaves were regarded as "male", that is, naturally poisonous. On the other hand, plants without thorny leaves were regarded as non-poisonous
Ceremonies and festivals held
In Embu and Mbeere culture, the birth of a child is an important event for the whole community. It is an assurance of not only the continuity of the family lineage, but also an assurance of the continuity and survival of the community as a whole. This is the social context within which the songs in this category are sung. They are sung at the arrival of a new baby, when conforming the name of the baby, and when taking gifts to the baby and the mother.
The ceremony entailed is usually performed as a ritual. One of the major functions of poetry in the initiation process is to help the initiate attain physiological as well as psychological therapy. The theme of the songs also instruct the initiates about what is expected of them in that particular stage.
Festivals
The dancers made their own apparatus like the dancing sticks and shields called migage and mivaru for the ngiro dance, and also a musical instrument like ngotho made of a gourd cut on both ends so that the hand could be pushed through to tap the ngotho with a special stick for the kiboia dance.
RESOURCES AND ECONOMIC ACTIVITIES
Agriculture
Cash crops and food crops grown
The main cash crops in the area are:
Coffee
Tea
Macadamia
Maize
Irish potatoes
Areas where the cash crops are grown
Tea is grown on the upper slopes of Mt. Kenya in Embu, Macadamia nuts are grown in the upper zones of Embu as cash crop. Coffee are grown in Mbeere because of the climate condition. Maize is the main stable food in the county It is grown more widely in the medium altitude areas of Embu.
Types of livestock kept
Dairy cattle
Beef cattle
Goats
Poultry birds.
Fishing
Areas where fishing is practiced
The main types of fish in the County include; trout, tilapia, mud fish and cat fish which are available mostly in the hydroelectric dams also fish are reared around Mt Kenya region highlands.
Forestry
Major forests
Wildlife and Tourism
Types of wildlife
There are a variety of wildlife species such as elephants, buffaloes, lions, bush bulks, baboons, hippos, Columbus monkeys and numerous species of birds.
The game parks and reserves
Mwea National Reserve in Makima town
Mount Kenya climbing expeditions and National Reserve
Karue Hill picnic site off Embu-Runyenjes road
7 folk hydroelectric power plants near Kiritiri town.
Kirimiri Forest
Major tourist attractions
Mau Mau Caves
Planetarium
Waterfalls
rocky hills for rock climbers
hydro-electric power dams- from the main dams in the region namely: Kiambere, Gitaru, Kindaruma, Masinga all of which are situated along the Tana River.
Industries
Traditional industries
Products of traditional industries
Mining –iron mining around
Gandarwa
Karuriri
Gituriri
Ithinthi stream
Riamugaa
Gemstone minning around:
Mbeere
Kamutharas
Kairiri
Kanthumbi
Trade
Major trading centres
Ishiara
Siakago
Kanyuambora
Kiritiri towns