Nyeri County
Introduction
It is located in the central region of Kenya. Its capital and largest town is Nyeri.
It has a population of 661,156 and an area of 3,356 km².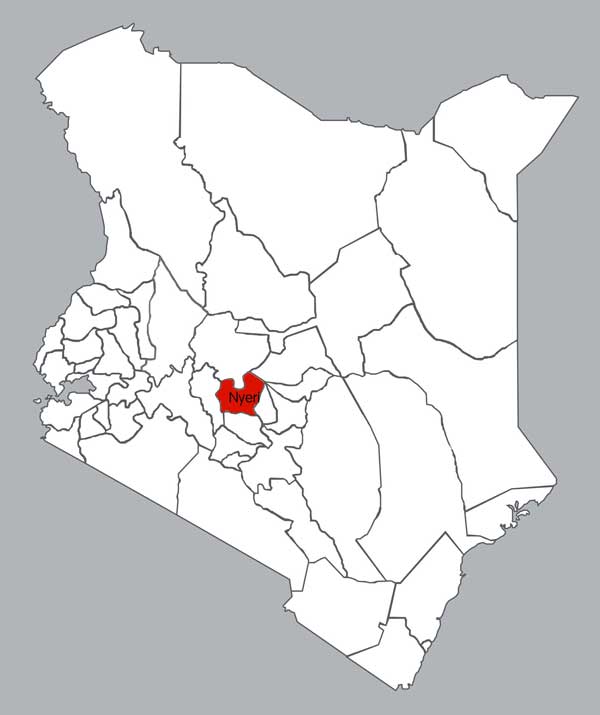 Constituencies
The county has six constituencies namely:
Tetu Constituency
Kieni Constituency
Mathira Constituency
Othaya Constituency
Mukurweini Constituency
Nyeri Town Constituency
Physical features
Rivers
River Chania
Gura River
Muringato River
Gikira River
Thego River
Naro Moru River
Burguret River
Lakes
Mountains
Hills
Plains
Valleys
The Trout Valley Nyeri
Mackinder's valleys
Importance of physical features
Provided places for worship for example hill tops, caves and forests.
They attract tourist hence bringing revenue.
Types of natural vegetation
Importance of vegetation
The forests act as water catchment areas
The contribute to the climate of the place
Home to wild animals
Map of distribution of the physical features.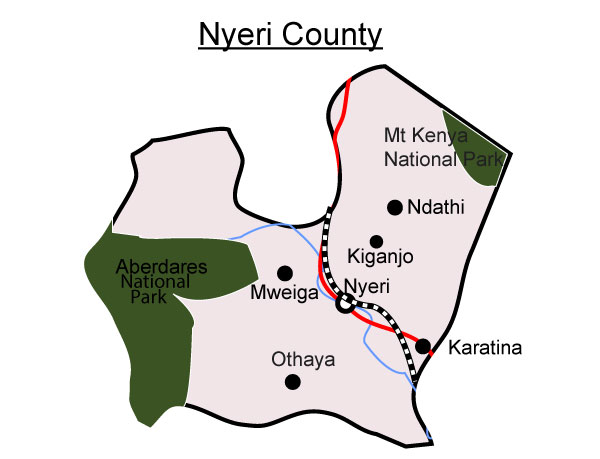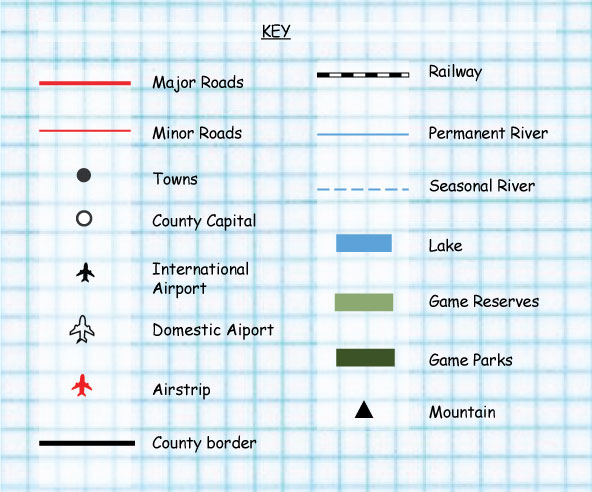 People and population
Language groups found.
Local people are predominantly of the Kikuyu ethnicity.
Areas of high population density.
Nyeri town
Nanyuki
Othaya
Karatina
Areas of low population density.
Kiganjo
Ndathi
Muruguru
Kabaru
Social relations and cultural activities
Traditional way of life of the people
Food
In most homes Kikuyu homes, typical traditional Kikuyu food includes githeri (maize and beans), mukimo (mashed green peas and potatoes), irio (mashed dry beans, corn and potatoes), roast goat, beef, chicken and cooked green vegetables such as collards, spinach and carrots.
Food "Irio" means food 1. A porridge made of maize, legumes and plantains (cooking bananas).
A gruel "ucuru" made from millet flour and water (beverage) and were eaten by both men and women corn cobs yams sweet potatoes plantains taro legumes.
Dressing
The kikuyu have different types of clothing for different age sets and functions, the clothing are vary from the young to the old.
Children in the traditional kikuyu tribe wear skins around their waist, they normally wear no cloth on their upper body.
Men also wear skins on their waist and walk bare chested but during the cold seasons, they cover themselves up to the knees with shukas.
Women in the kikuyu tribe normally have their whole bodies covered with a shuka that is tied on their left shoulder and extends all the way to their ankles. The also wear earrings, necklaces, bracelets and anklets that are made from colored beads and cowrie shells.
Songs and dances
The have dance troupes or tribal groups that perform certain dance rituals or routines. It is a single functioning unit that involves representing its tribe, community, and nation. These dances also tend to represent their values and beliefs.
Traditional medical practices
Old wise men and women with more experience were responsible for treatment in the community. They knew herbs for every illness.
Medical practices
Herbs were used for medicinal practices.
Ceremonies
In the Kikuyu naming is done after the child's grandparents. The father's parents first then the mother's parents. After that the parent's siblings can be named starting with the oldest depending on how many children are born. The father's side is always given priority.
Circumcision for the boys is compulsory, but the girls is voluntary. However the traditional view is that all boys and girls have to be circumcised. Boys are trained by their fathers while girls are trained by their mothers and grandmothers. Normally, at age 15. This is the age when they pass from childhood to adulthood. Circumcision is normally done in open air in the field.
Festivals
Kikuyu made sacrifices on great occasions, such as the rites of passage, planting time, before crops ripened, at the harvest of the first fruits, at the ceremony of purifying a village after an epidemic, and most of all when the rains failed or delayed.
Music and dance, along with storytelling, were all emphasized in the past. Dancing by men and women was mandatory at initiation ceremonies. weddings and other public events. People of all ages enjoyed dancing
Resources and economic activities
Agriculture
Main cash crops and food crops grown
They grow coffee tea, maize, beans, bananas, sugarcane, yams, millet, and a variety of other vegetables
Areas where the cash crops are grown
Types of livestock kept
Cattle
Goats
Sheep
Poultry
Fishing
Areas where fishing is practiced
Diroh
Aberdare fishing lodge
Forestry
Major forests
Nyeri hills Forest
Gathiuru forest
Nyeri forest
Bamboo forest
Wildlife and Tourism
Types of wildlife
The game parks and reserves
The major tourist attractions
Sangare Gardens in Mweiga Nyeri
Aberdare National Park
Industries
Traditional industries and the products
Agriculture coffee and animal products
Mining for building blocks
Trade
The major trading centres
Is Located on the Nairobi - Nyeri Road, about 20km from Nyeri town, Karatina is known for its large vegetable and food market.
It is an agricultural town with coffee and tea as the main cash crops grown in the farms.