Introduction
It is a county in the former Coast Province of Kenya. Its capital is Kwale, although Ukunda is the largest town. The county has a population of 649,931.[2]
Kwale is mainly an inland county, but it has coastline south of Mombasa. Diani Beach is part of the Msambweni division. Shimba Hills National Reserve and Mwaluganje elephant sanctuary are other attractions in the county.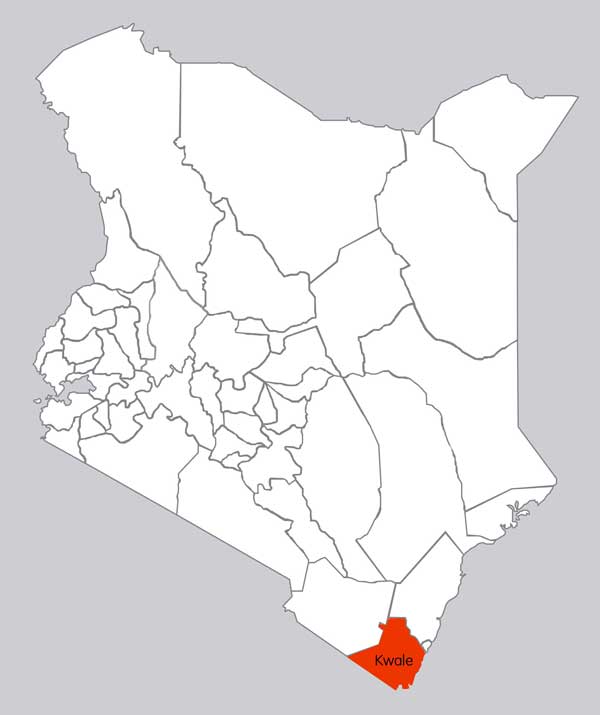 Constituencies
It consist of 4 constituencies
Msambweni Constituency
Matuga Constituency
Kinango Constituency
Lunga Lunga Constituency
Physical features
Rivers
River chombo
Choro choro
Dambole
Demweni
Durumu
Gede
Lakes
Hills
Plains
Liuwa
Shimba hills plains
Valleys
Mwachomwana Valley
Mwamdudu Valley
Miritini Valley
Importance of physical features
Attract toursits hence contribute to the revenue of the county.
Hill tops, forests, caves were places of worship for the people.
Main types of natural vegetation
Importance of vegetation
Contribute to the climate of the region.
Source of food and home to wild animals and birds.
Map of the Distribution of physical features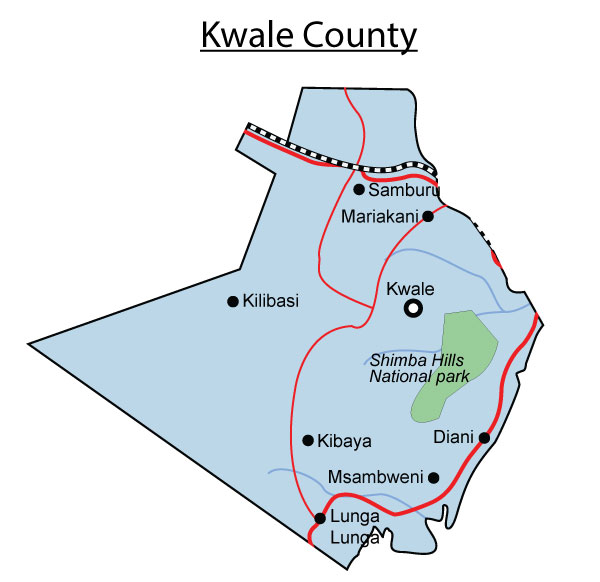 People and population
language groups
Kwale is the main town of the Digo and Duruma people. These people belong to the Mijikenda ethnic group.
Areas of high population density
Areas of low population density
Lungalunga is the least populated town from the 3 towns
Social Relations and Cultural Activity
The traditional way of life
Food
The Mijikenda, and more particularly the Digo tribe, are considered some of the best cooks among the Kenyan tribes. Wali, a popular Kenyan food, is also a staple of the Mijikenda tribe. Wali is rice prepared with coconut milk, giving it a sweet taste. Fish and other seafood are also common in Mijikenda cuisine.
Dressing
Hando is a popular traditional skirt worn by Mijikenda women. Traditionally it was worn as a knee length skirt, especially in the public to show respect by not exposing body parts that were regarded as private. The Hando was made from cotton fabric.
Songs and dances
Traditional medical practices
The Mijikendal believe that illness results from possession by malevolent spirits. Pepo za mwiri, a "spirit of the body", manifests itself in various ailments such as malaria, whooping cough, arthritis and smallpox. Bodily possession is treated with therapy, herbal medicine and magical ornaments. Pepo za kitswa, an Arabic-speaking Muslim "spirit of the head", can cause mental disturbances and necessitates a lengthy course of treatment which is similar but also includes an important exorcism ceremony called ngoma za pepo, "spirit dance". Both kinds of afflictions are diagnosed by specialists, waganga, who first identify the spirit then prescribe the course of appropriate treatment
The ceremonies and festivals held
Ceremonies
Mijikenda Names – Naming of the child in Mijikenda is done in two, three ways;
1. A child is given a name while still in the womb by a relative; for example, the auntie would want the baby to be named her if it would be a female, and if it turns out to be a male he should be called after his husband. (Kutunikiwa) if no objection from other members of the family then the naming would be through.
2. If it turns out that some of the family members objected and proposed other names; then pieces of papers would be written all the names proposed by the relatives present during the naming ceremony, and then children would be called up on to pick each a piece of paper, the exercise is repeated three times, and the name that would be picked three times would be the name given to the new born child. The exercise is practiced to avoid gossip, favors', etc. That can harm the baby.
3. Another way of naming is if a relative happens to pop up in the house before the 3rd day and name the new born baby it's accepted.
Circumcision was a big celebration just like weddings or Edd celebrations in communities. Children, boys from seven or more families or the neighbor are identified, the family then puts the heads together for the celebration and the date. Each family will then contribute animals to be slaughtered or grains for the big day.
Festivals
Resources and economic activities
Agriculture
Main cash crops and food crops grown
The main food crops grown include maize, cassava, beans, peas, grams and semi-commercial crops like coconuts and mangoes.
The cash crops grown are cashew nuts, sugarcane, cotton, simsim, bixa and tobacco.
Areas where the cash crops are grown
Msabweni, Matuga and Kinango.
Types of livestock kept
Cattle
Goats
Sheep
Indigenous chicken
NB: details of breeds are not required
Fishing
Areas where fishing is practiced
Shimoni
Vanga
Msambweni
Diani and Tiwi
Forestry
major forests
Wildlife and Tourism
Types wildlife
Elephant
Antelope
bushy tailed mongoose and other small mammals like fruit bats
Game parks and reserves
Shimba Hills National Reserve.
Major tourist attractions
Shimba Hills National Reserve.
Industries
Traditional industries
Fishing- Fish
Trade- agricultural products
Trade
Major trading centers
Msambweni
Ukunda
Lungalunga