Homa Bay County
Introduction
It is a county in the former Nyanza Province of Kenya. Its capital and largest town is Homa Bay. The county has a population of 963,794 (2009 census) and an area of 3,154.7 km². Homa Bay County boasts of Lake Victoria as a major source of livelihood. Homa Bay borders five counties; Migori to the south, Kisii and Nyamira to the east, and Kericho and Kisumu to the north east. The county also borders Lake Victoria to the north and west.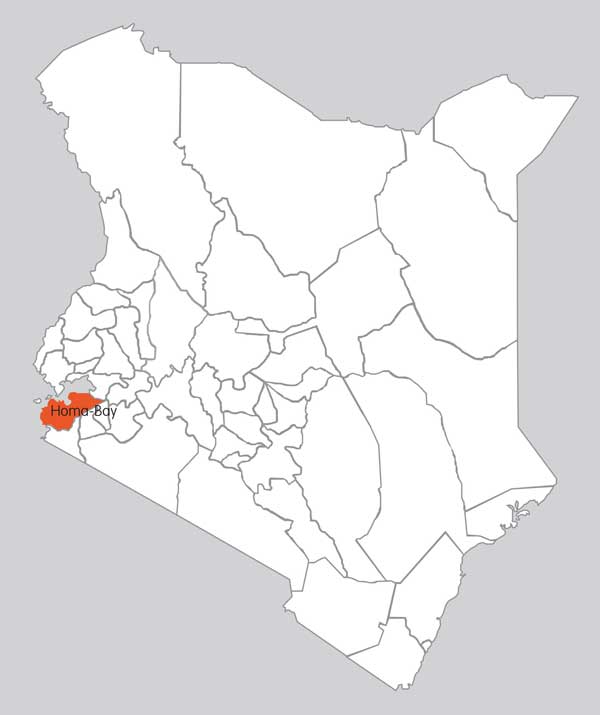 Constituencies
Kasipul Constituency
Kabondo Constituency
Karachuonyo Constituency
Rangwe Constituency
Homa Bay Town Constituency
Ndhiwa Constituency
Mbita Constituency
Suba Constituency
Physical features
Rivers
Awach Kibuon
Awach Tende
Maugo
Kuja
Rangwe
Riana rivers
Lakes
Hills
Asego hill
Simenya hill
Homa hills
Valleys
Importance of physical features
Tourist attraction
Places of worship for example on top of hills
Lake Victoria is a means of transport and a source of food
They are a natural habitant to birds and animals
Types of natural vegetation
Homabay County has two gazetted forests namely Gwassi and Wire and eight non-gazetted forests covering about 128 km², namely Ngorome hills, Ruri hill, and Gembe hills, Mfangano, Homa Hills, Asego Hill and Kodera Forest
Importance of vegetation
Natural habitat to animals and birds
Forests are a catchment area
Some of the plants are used as medicine and herbs
Map distribution of phyisical features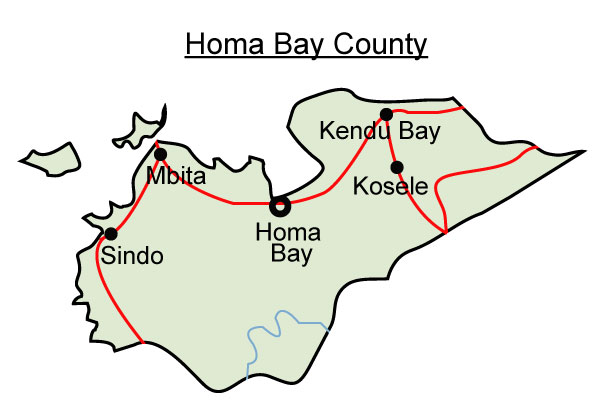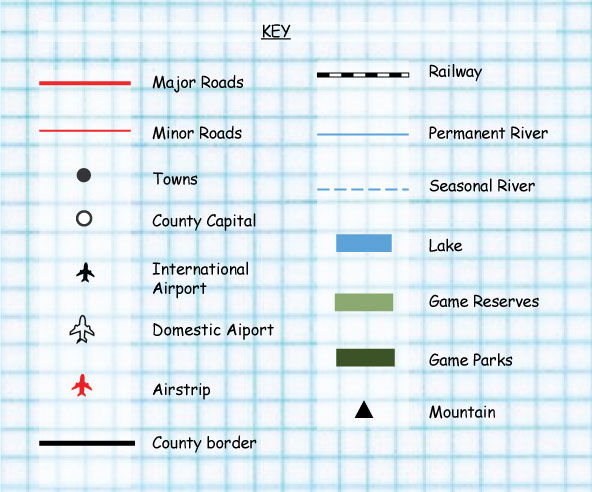 People and population
Language groups
The Luo and Abasuba people are the dominant communities in Homa Bay, making at least 95% of the county's population. The Luo community speak in Dholuo language. Abasuba speak in Suba language, although many Subas speak in Dholuo language due to their interaction with the Luo people. Other communities such as Kisii, Teso, Banyore, Bukusu and Samia are also present in Homa Bay County. These groups of people are in the county as tenant fishermen or business people.
Areas of high population density
Homabay town, Rangwe and Karachuonyo sub-counties. This is where large stocks of livestock are kept.
Areas of low population density
Mbita and suba have low population density
Social relations and cultural activities
Traditional way of life of the people
Food
Ugali, beans and fish are the staple food of the people living here.
Dressing
In cultural dances, performers may put on feathered hats and skirts made of sisal strands.
Songs and dances
The Luo are the originators of a number of music styles, such as Benga, Ohangla, Dodo, Nyatiti, Orutu and Otenga.
Traditional medical practices
Ceremonies
This was done a few days after birth, by the parents of the child. Luos were naming their children after their dead relatives, the time and the season the child was born, and if a mother conceived without seeing her periods. Children born at a certain time were named after that time, i.e. Otieno/Atieno, these are children born at night, Okoth/Akoth born during rainy season, Okumu/Akumu born without the mother seeing her periods. Naming children after the dead relatives has now stopped, but they still name them after the seasons, time of birth and the living relatives.
Luo people are among the few Kenyan tribes that do not traditionally circumcise their males as an initiation to manhood. Instead, in Luo traditions, initiation involves the removal of six teeth from the lower jaw.
Festivals
After harvesting it was the first wife and the husband who had to be the first to eat the newly harvested crops. Where a man had only one wife as opposed to being polygamous, then everything was done with just his sole wife.
The Luo are the originators of a number of music styles, such as Benga, Ohangla, Dodo, Nyatiti, Orutu and Otenga. Ohangla is a traditional dance among the Luo community. It was used to celebrate weddings and also in funeral ceremony as part of Tero Buru. Ohangla consists of more than 8 drums hit by a stick and a cylindrical shoulder slung drum played normally to the accompaniment of flute, Nyatiti or kinanda.
Folk songs and folk tales were told in the evening. They had moral lessons and also told the history of the community to the y of the communityoung boys and girls
Resources and economic activities
Agriculture
Cash crops and food crops grown
The major cash crops grown within Homa Bay County are rice, potatoes, fruits (pineapples, mangoes, oranges etc), cotton and sugar cane, sun flower, pineapples, potatoes
Areas where the cash crops are grown
Sugar cane in Ndhiwa
Sun flower in Suba
Pineapples in Rangwe
Potatoes in Kasipul and Kabondo Kasipul.
There exists huge potential for cotton in Mbita, Homabay town, Rangwe and Karachuonyo sub-counties.
Types of livestock kept
Zebu cattle
Red Maasai sheep
Fishing
Areas where fishing is practiced
Forestry
Major forests
Wildlife and Tourism
Types of wildlife
The county has a huge population of wildlife including the roan antelope, hippoptamus, More than 400 species of birds have been recorded in Ruma National Park.
Game parks and reserves
Ruma National Park is located in Lambwe Valley, close to the shores of Lake Victoria.
Major tourist attractions
Kanyamwa
Ruma National Park
Simbi Nyaima
Mfangano
Rusinga islands
Industries
Traditional industries
Products of traditional industries
Fishing- Fish
Algriculture – maize, beans , ground nuts
Tourism
Trade
Major trading centers
Homa bay town
Rangwe
Karachwonyo