Introduction
Nyandarua County is a County in the former Central Province of Kenya.
Its capital and largest town is Ol Kalou. Formerly the capital was Nyahururu, which is now part of the Laikipia County.
Nyandarua County has population of 596, 268 and an area of 3, 304 km².
The county is located on the northwestern part of the old Central Province and contains the Aberdare Ranges.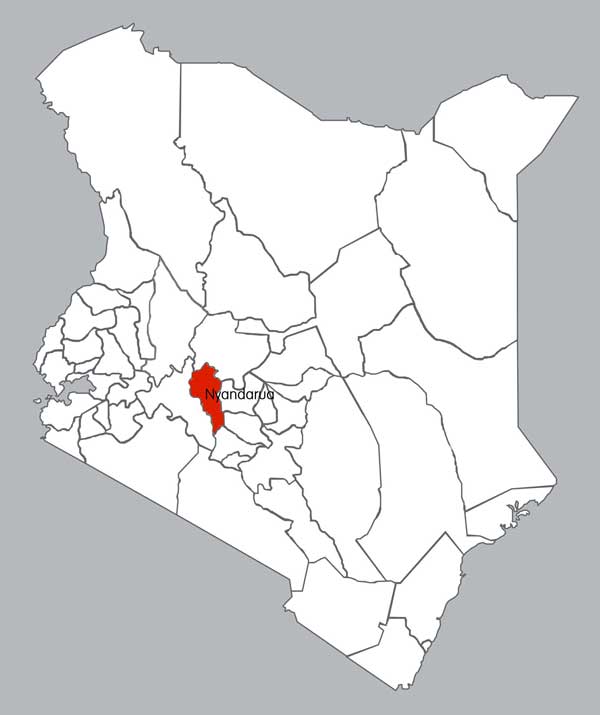 Constituencies
Ol Kalou
Kinangop
Kipipiri
Ndaragwa
Ol Joro Orok
Main physical features
Rivers
Kirundu River
Nandarasi River
Mukuyu River
Lakes
Mountains
Hills
Elephant Hill on the Aberdare Ranges
Twin Hills
Valleys
Happy valley also known as Wanjohi Valley in Nyandarua.
Importance of physical features
The rivers are the source of water for farmers and also for livestock.
They form major attraction sites for example Lake Ol Bolossat, Thompson waterfalls and the Aberdare National Park
Aberdare Mountain Ranges is the main water tower in Nyandarua.
Types of natural vegetation
Dense bamboo forests and then moorland
Importance of the vegetation
It forms a home to a number of animals for example the Elephant, Buffalo, Antelope, endangered Black Rhino and birds.
Map of distribution of the physical features.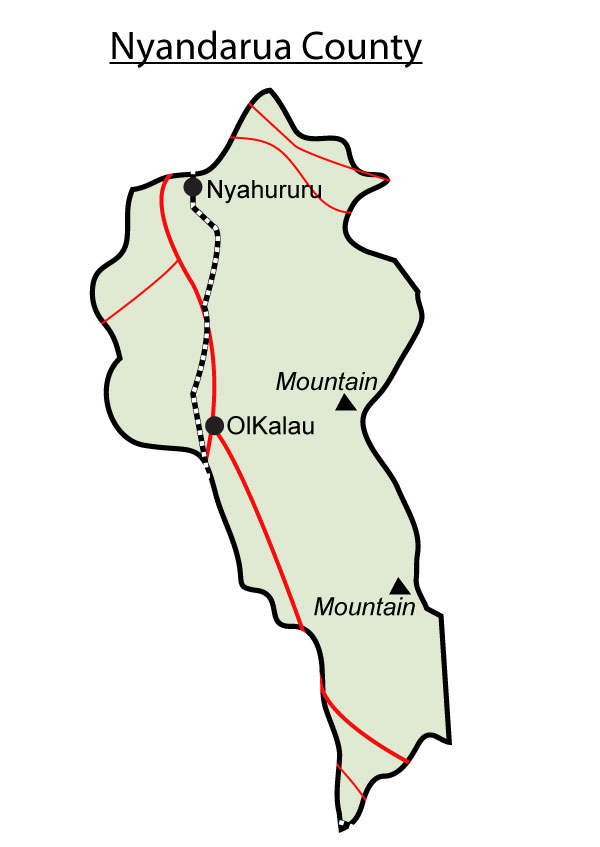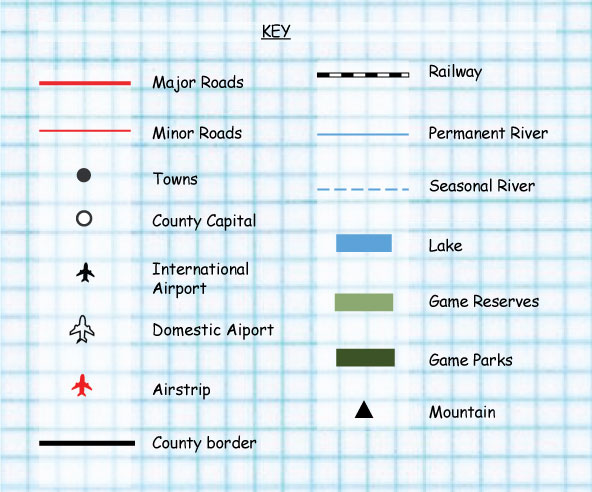 People and population
Language groups
Kikuyu
Luo
Luhyia
Kamba and Kisii are also residents especially in the urban centers.
Areas of high population density
Social relations and cultural activities
Traditional way of life of the people
Food
Potatoes, cabbages, maize and beans
Dressing
The kikuyu have different types of clothing for different age sets, the clothing are vary from the young to the old.
Children in the traditional kikuyu tribe wear skins around their waist, they wear no cloth on their upper body.
Men also wear skins on their waist and walk bare chested but during the cold seasons, they cover themselves up to the knees with shukas.
Women in the kikuyu tribe have their whole bodies covered with a shuka that is tied on their left shoulder and extends all the way to their ankles. They also wear earrings, necklaces, bracelets and anklets that are made from multi-colored beads and cowrie shells.
Songs and dances
Traditional songs, proverbs and dances bring the myths and legends of the Kikuyu to life. Traditional songs and dances performed at weddings and initiations. Songs are also performed to express simple love and courting songs. Songs are sung when hunting and when going to work in the fields.
Traditional medical practices
Traditional medicine men and women gathered plants used for medical. Different plants were used to treat different illnesses.
Ceremonies
Naming defers from time to time.
Children born during harvest had different names with children born during the dry times.
The surname was from the father or the grandfather family.
They had elders in the village who was responsible for this process.
Mambura ma irua meaning male circumcision.
Traditionally, there was a circumcision ceremony for boys and girls by age grades of about five year periods.
All of the men in that circumcision group would take an age grade name.
Festivals
This was celebrated with songs and dance. Boys and girls dressed up with feathers and animal skin for the performance. Sacrifice was offered as a way to say thank you to the gods for the good harvest.
Traditional songs and dances performed at weddings and initiations. Songs are also performed to express simple love and courting songs. Songs are sung when hunting and when going to work in the fields.
Resources and economic activities
Agriculture
Main cash crops and food crops grown
Coffee and tea alongside food crops such as maize, potatoes and beans.
Areas where the cash crops are grown
Kambaa
Mataara
Kagwe
Theta
Ngere
Ikumbi
Ndarugu
Gachege
Njunu
Nduti
Makomboki
Gacharage located in Serine hills.
Types of livestock kept
Local breeds and dairy
Fishing
Areas where fishing is practiced
Trout fishing in the ice-cold Guru Karuru and Chania Rivers
Forestry
The major forests
The Aberdare Range (formerly the Sattima Range, Kikuyu: Nyandarua) is a 160 km long mountain range of upland, north of Kenya's capital Nairobi with an average elevation of 3,500 meters (11,480 Ft ).
It is located in Nyandarua County, west central Kenya, northeast of Naivasha and Gilgil and just south of the Equator.
Wildlife and Tourism
The types of wildlife
Black rhinoceros
Bongo (an elusive antelope)
Leopard
Buffalo
Eland
The park is also home to over 240 species of birds including
Vultures
Goshawks
Sunbirds
Game parks and reserves
Tourist attractions in Nyandarua County include
The Aberdare National Park
Thomson's Falls
Lake Ol Bolossat.
Industries
Traditional industries and the products.
Trade
Major trading centers
Ol Kalou
Ndaragwa
Tumaini
Ol Joro Orok