Kilifi County
Introduction
- It was formed in 2010 as a result of a merger of Kilifi District and Malindi District.
- Its capital is Kilifi and its largest town is Malindi.
- The county is located north and northeast of Mombasa.
- Kilifi has fewer tourists than Mombasa County, but there are some tourists beaches in Kikambala, Watamu, Malindi and Kilifi.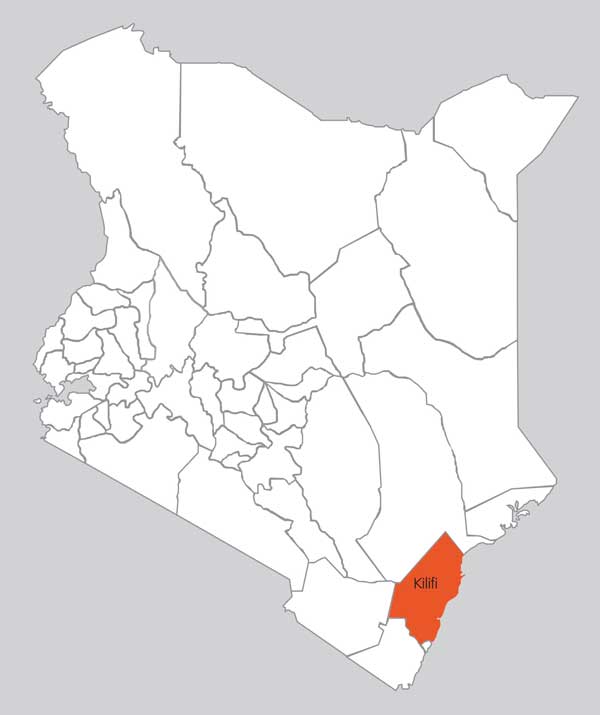 Constituencies
The county has seven constituencies
Kilifi North
Kilifi South
Kaloleni
Ganze
Magarini
Malindi
Malindi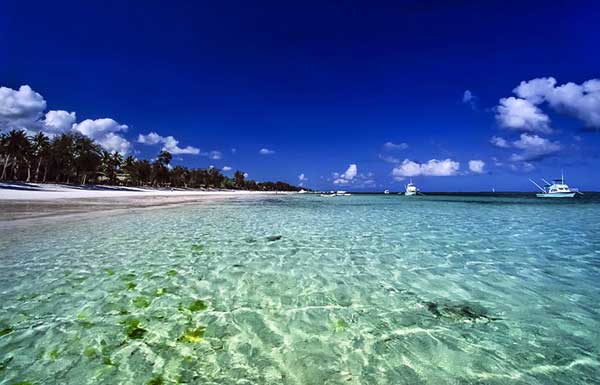 Physical features
Rivers
Goshi River.
Kilifi River
Hills
Plains
The Kilifi coastal plains
Kazuri plains
Valleys
Plateaus
Importance of physical features
Tourist attraction
Rivers provide water for farming in the area. People also fish in the rivers
Hill tops were places of worship
Types of natural vegetation
Importance of vegetation
Vegetation is responsible for the climate of the area.
Forests are source of food
It also provide habitat to birds and animals
It is also a tourist attraction element
Map distribution of physical features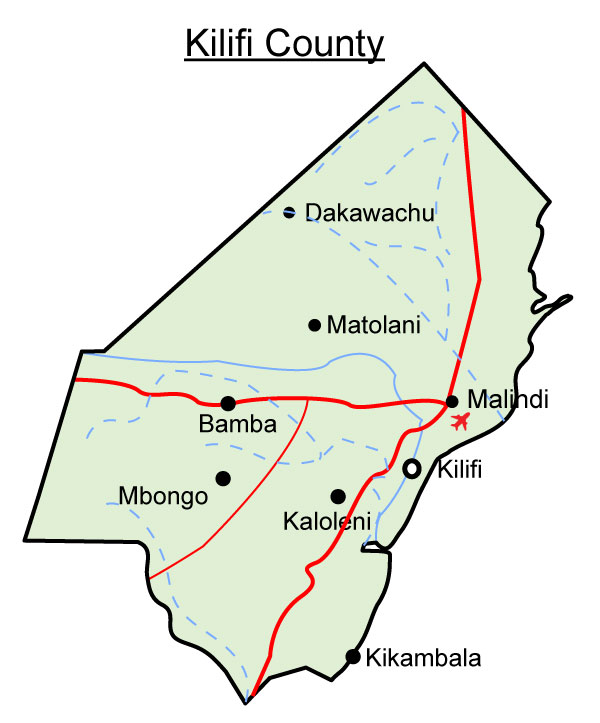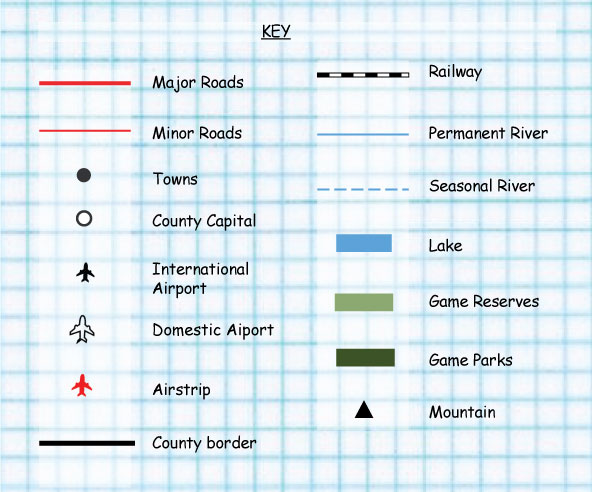 People and population
Language groups found
The main communities living in Kilifi County include Mijikenda, Swahili, Bajuni, Indians, Arabs and European settlers.
Areas of high population density
Kilifi town and kaloleni have the most population
Areas of low population density
Watamu, Marafa and Gede have the least population.
Social relations and cultural activities
Traditional way of life of the people
Food
Wali, a popular Kenyan food, is also a staple of the Mijikenda tribe. Wali is rice prepared with coconut milk, giving it a sweet taste. Fish and other seafood are also common in Mijikenda cuisine.
Dressing
Hando is a popular traditional skirt worn by Mijikenda women. Traditionally it was worn as a knee length skirt, especially in the public to show respect by not exposing body parts that were regarded as private. The Hando was made from cotton fabric in the following process:- Pull threads along the grains of fabric in one direction to fray the fabric. It is then soaked in water and while wet, beaten against a tough surface, mostly stone or wood and sometimes in a mortar & pestle to soften the thread strands. The tangled threads are then combed through to straighten using a wide toothed wooden comb (mkowa).
Songs and dances
Song and dance depended on what occasion was being celebrated. Funeral songs differed form harvest song and dance for example.
The message tone and dance styles were different depending on what they were celebrating
Traditional medical practices
The kaya forest was considered sacred. It was where they worshiped from. People were taken to the kaya forests by an elder man to be healed. They knew specific plants for specific treatments. To be taken to the kaya by an elder one had to offer a gift to the elder.
Ceremonies
Naming of the child in Mijikenda is done in two, three ways;
A child is given a name while still in the womb by a relative; for example the auntie would want the baby to be named after her if it would be a female, and if it turns out to be a male he should be called after his husband. (Kutunikiwa) if no objection from other members of the family then the naming would be through.
If it turns out that some of the family members objected and proposed other names; then pieces of papers would be written all the names proposed by the relatives present during the naming ceremony, and then children would be called up on to pick each a piece of paper, the exercise is repeated three times, and the name that would be picked three times would be the name given to the new born child. The exercise is practiced to avoid gossip, favours', etc. That can harm the baby.
Another way of naming is if a relative happens to pop up in the house before the 3rd day and name the new born baby it's accepted.
Circumcision was a big celebration just like weddings or Edd celebrations in or communities. Children boys from seven or more families within the family or the neighbourhood are identified, the family then puts the heads together to organize for the celebration and the date. Each family will then contribute animals to be slaughtered or grains e.g. rice for the big day.
Festivals
This was a special occasion marked with song feast and dance. This was to say thank you to the ancestors. They believe anyone who worked deserved a portion of the harvest. The event lasted a whole day
Music was used to celebrate important occasions like harvest, birth or marriage. They dressed themselves with dry animals skin. While performing a dance. Songs were also used to educate the young and motivate warriors while going to war.
Resources and economic activities
Agriculture
Cash crops and food crops grown
Their most important cash crop is the coconut palm, whose products include oil extracts and palm wine. Its fronds are also used for roofing and as material for making baskets, mats, brooms and other weaved products.
Other important cash crops include cashew nuts, oranges and mangoes. Where favorable weather conditions allow, some Mijikenda people also grow annual crops such as maize, sorghum, millet, and beans.
Areas where the cash crops are grown
Types of livestock kept
Fishing
Areas where fishing is practiced
Forestry
Major of forests
Arabuko Sokoke Forest
Kaya forest
Wildlife and Tourism
Types of wildlife
Whale sharks, manta rays, octopus and barracuda.
Lions
Buffalo
Rhino
Elephant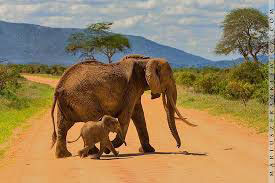 Kilifi birds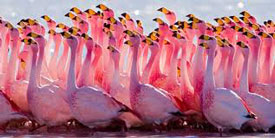 Dolphins
Turtles including the Loggerhead, Green, Hawksbill and the Olive Ridley
Game parks and reserves
Watamu Marine National Park
Arabuko Sokoke National Park
Malindi Marine National Park
Major tourist attractions
Ruins of gedi
Watamu Marine
Malindi Museum
Marine park
Rabai Museum
Matungu Public beach
Kaya forest
Tropical beach
Industries
Traditional industries
Products of traditional industries
Agricultural products
Baskets
Trade
Major trading centers
Kilifi town and Malindi

Bonje Valley