Elgeyo Marakwet County
Introduction
It is located in the former Rift Valley Province. Its capital and largest town is Iten. It borders the counties of West Pokot to the north, Baringo County to the east, southeast and south, Uasin Gishu to the southwest and west, and Trans Nzoia to the northwest.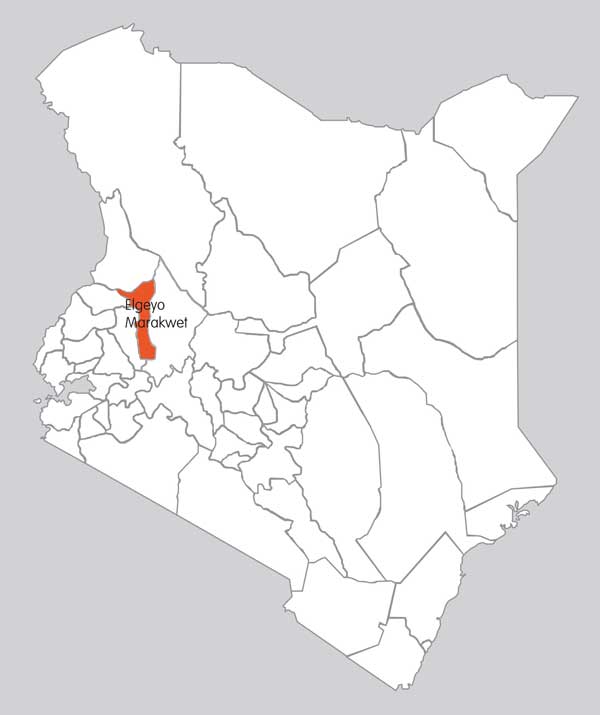 Constituencies
Marakwet East,
Marakwet West,
Keiyo North,
Keiyo South.
Physical features
Rivers
Hills
Cherang'any Hills
Sergoit hill
Plains
Valleys
Importance of physical features
Source of revenue through tourist attraction
Physical features provide a natural habitat to plants, birds and animals.
Hill tops were considered sacred places for worship.
Types of natural vegetation
Importance of vegetation
The forests vegetation contributes to rainfall in the county.
Vegetation provides natural habitat to plants, animal and birds.
The vegetation is also a source of revenue through tourist attraction
Map of distribution of physical features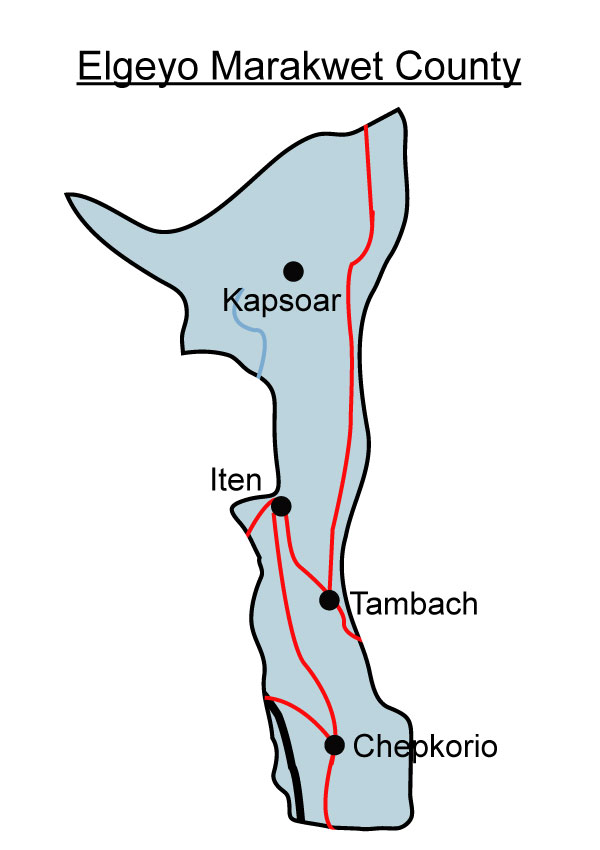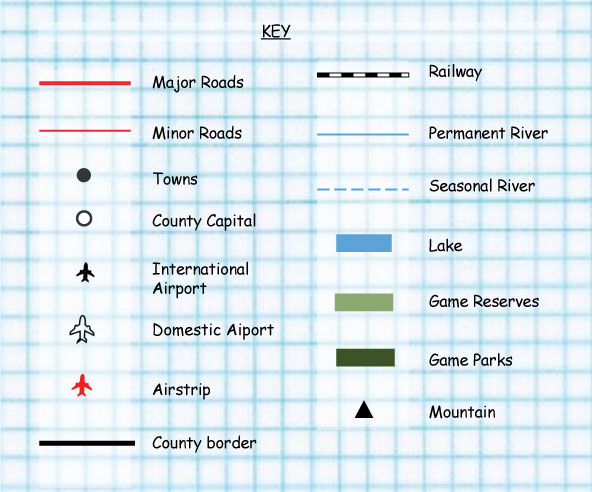 People and population
Language groups
The Elgeyo also called the Keiyo are an ethnic group that is part the larger Kalenjin ethnic group of Nilotic origin. The Marakwet are also a dominant language group in the area. They are all Highland nilotes. These are the two main language groups in the county. Other language groups are the Kikuyu in small numbers, the Pokot, Sabaot, Tugen and Nandi are also present.
Areas of high population density
Iten is the highest populated town.
Areas of low population density
Kabetwa is the least populated town.
Social relations and culturlal activities
Traditional way of life of the people
Food
Like all Highland Nilotes, they ate animal products like meat, milk and blood from their sheep, goat and cattle. They also ate grains.
Dressing
They wore animal skins. Men covered their waist and had a hat. Women covered their waist and chest. Cattle and sheep provided the skins for dressing.
Songs and dances
Their traditional music lay put much emphasis on the use of vocal resources. Although pure instrumental music is performed, it is exception rather than the rule, for the people prefer to sing. They sing while they work and they sing for joy.
Traditional medical practices
They had healers who gathered herbs for healing the sick.
Ceremonies and festivals held
Ceremonies
The following factors were considered
in naming;
Naming according to time of birth, naming according to events, naming according to ancestors, naming according to place of birth, naming according to seasons, naming according to the situation of
birth, naming according to the character, naming according to body posture, naming after heroes and heroines, naming According to time of Birth.
Giving birth to a child is called Tumet. The expectant mother is called Tamonet/chi nyigis and after giving birth is called saloita (ne kochuut go). In naming boys or male child, the prefix Kip starts and then time or event apart of Cheruiyot. For girls or females Chep starts followed by time, in Nandi Chep sometimes is replaced
with Jep probably based on pronunciation.
After male youths were circumcised, they were secluded for lengthy periods during which they were instructed in the skills necessary for adulthood. Afterward, they would begin a phase of warriors during which they acted as the military force of the tribe. Elders provided guidance and wisdom. Today, age-sets have lost their military function, but still provide bonds between men of the same set. Female age-sets have lost much of their importance.
Festivals
This was followed with danced and singing to give thanks for the good harvest.
Music and dance was performed specifically for entertainment, as a recreational activity or performed whenever required.
Resources and economic activities
Agriculture
Cash crops and food crops grown
The Highlands are ideal dairy farming and cash & food crop production. These crops include; tea, pyrethrum, potatoes, passion fruits, vegetables (cabbages, kales, carrots and peas), temperate fruits, Maize, wheat and beans.
The Lowland is ideal for production of Mangoes, Oranges, Avocadoes, Bananas, Tomatoes, Pawpaw, Groundnuts, Passion fruits, Watermelon, dryland cereals (millets, maize, pearl millets and sorghum) and legumes (beans, pigeon peas, green grams, cowpeas, soya, and chickpeas).
Areas where the cash crops are grown.
Chesoi
Chebara
Nyaru
Iten
Chepkum
Fishing
Areas where fishing is practiced
River Kerio
Torok waterfalls
Chebara Dam
Forestry
Major of forests
Kapcherop Forest
Kaptagat Forest
Embobut Forest
Kipkabus Forest
Wildlife and Tourism
Types of wildlife
Buffalo's
Giraffes
Elephant
Snakes
Game parks and reserves
Rimoi National Reserve
Kerio Valley National Reserve
Major attactions sites
Kerio Valley National Reserve
Elgeyo Escarpment
Sports Tourism
Paragliding
Cherang'any Hills
River Kerio
Rimoi National Reserve
Torok waterfalls
Chebara Dam
Sergoit Hill
Lake Kapnorok
Cheploch Gorge
Kipteber Meteorite Historical Mountain
Kureswo Hotsprings
Industries
Traditional industries
Products of traditional industries
Agriculture
Hunting and gathering
Fishing
Trade
Major trading centres
Chesoi
Chebara
Chepkum
Iten