Wildlife refers to plants, animals, birds and insects in their natural habitats. Wild plants are called flora while wild animals are called fauna. Wildlife is protected in national parks, national reserves, marine parks and bird sanctuaries.
In Kenya, the largest national park is Tsavo National Park in the Coast province. The largest Game Reserve in Kenya is the Maasai Mara. It is found in the Rift Valley Province and is famous all over the world because of the many wild animals it has.
The Tsavo National Park is popular with tourists because it offers the chance to see a lot of wildlife, including elephants.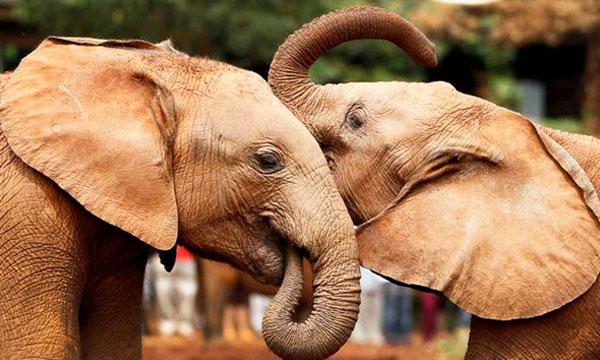 National parks and game reserves in Kenya
A protected area where wildlife is conserved is known as a national park. National parks are managed by the central government through the Kenya Wildlife Service (KWS). Examples of national parks are Tsavo, Nairobi, Amboseli, Lake Nakuru, Mount Kenya, Mount Elgon and Meru.
Game reserves are managed by local authorities. Examples of game reserves are Maasai Mara, Ruma, Sibiloi, Boni, Dodori, Marsabit, Watamu and Kiunga marine reserves and Losai among others.
Major National Parks and Game Reserves in Kenya.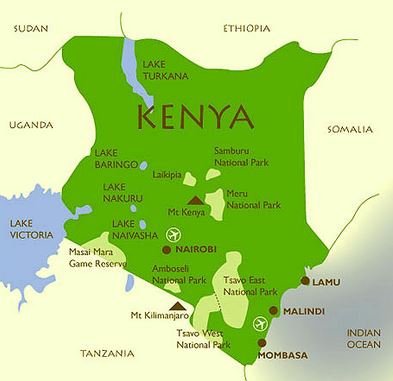 Importance of wildlife
Wildlife is our national and cultural heritage. We must protect it so that the future generations can benefit from it.
It is an important part of the environment. Plants help to clean air. They also attract rainfall.
Different types of plants and animals make up biodiversity. If they are not protected, then there will be no balance of species in the environment.
Plants help to protect catchment areas where rivers begin. If not protected, the rivers could dry up, killing all the fish and plant in the water.
It is a tourist attraction in Kenya. Tourists bring foreign exchange to the country.
It has lead to the development of transport and communication system in Kenya.
Some wild animals are some source of game meat and the sale of it earns money to the country.
Problems facing wildlife
1. Conflict: There is competition between wildlife and human activities like agriculture and settlement, so people take land from wildlife.
2. Poaching: Poachers are people who kill wildlife illegally. They kill animals for their skins, horns, tusks and for food.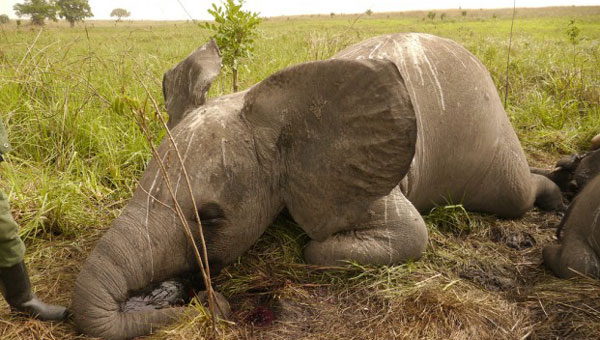 3. Game hunting: Some countries in Africa like Tanzania allow tourists to pay money and hunt wild animals.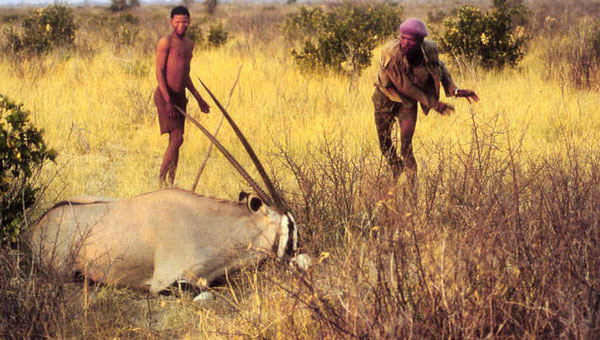 4. Overcrowding: Too many tourists in the national parks interfere with the natural way of life of the animals.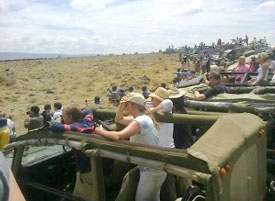 5. Pollution: Dirty water from factories resulting from water pollution eventually goes to the rivers then to the sea.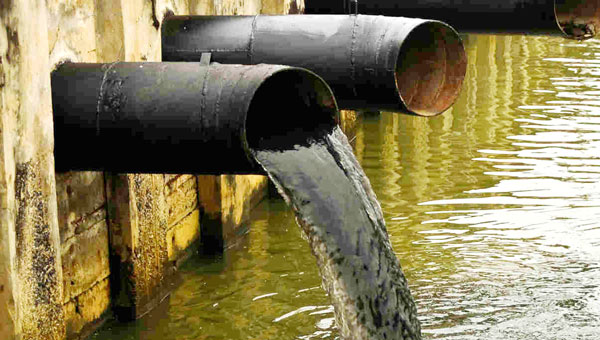 6) Outbreake of forest fires destroys and animals' habitat and and may kill the animals.
7) Prolonged drought result in drying up of water sources and pasture for wildlife. This leads to many animals dying
8) Presence of pest and diseases that attact wildlife resulting in death of some animals.
9) Over population of certain animals, for example, elephants in the parks lead to over grazing and uprootingof trees.
Meaning of wildlife conservation
Wildlife conservation is the careful use and management of wildlife to aviod extinction.
Wildlife conservation measures
Introducing wildlife conservation syllabus in schools.
Holding campaigns, seminars and workshops to create wildlife conservation awareness.
Creating strict laws to prohibit poaching.
Banning products from extinct wildlife for example, leopard skins and ivory.
Establishing orphanage homes for endangered species.
Constructing electric fences around parks and reserves.
Transportation of overpopulated animals to park with fewer animals.
Sick animals should be treated to avoid death and spread of the disease.
Establishment of national parks and game reserves to protect wildlife from poachers.
Tourism
Tourism is the movement of people within their own country or to another country for sight-seeing and recreation. Tourists usually visit a place for purposes of relaxation and enjoyment.
In Kenya, there are domestic tourists from within Kenya and international tourists who come from other countries. Most of Kenya's foreign tourists come from Europe, Asia and North America.
Many tourists come to Kenya from all over the world.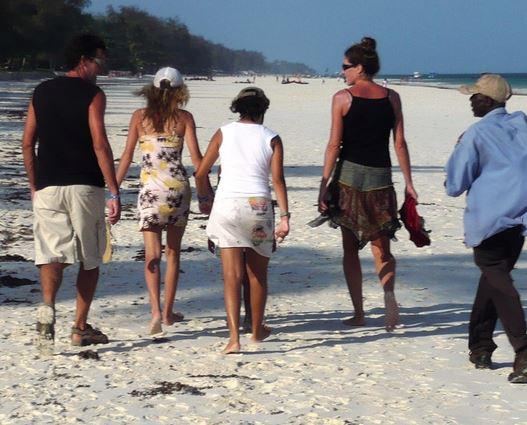 Main Tourist attractions in Kenya
Tourist attractions in Kenya include the following:
Wildlife: Kenya has rich wildlife resources many of which are mainly preserved in National Parks, Games Parks and Forest Reserves.
Scenery: Kenya's beautiful scenery like the Great Rift Valley, the snow-capped Mount Kenya, hot springs and geysers of Lake Bogoria and the scenic Rift Valley lakes in the country attract tourists.
Historic sites: Historic sites like Fort Jesus, Kariandusi and Vasco da Gama Pillars attract tourists and therefore contribute to the income earned from tourism.
Climate. Kenya 's pleasant warm climate throughout the year attaracts tourists, especially when it is winter in their countries of their origin.
Clean sandy beaches. Kenya has clean sandy beaches that have not been greatly affected by pollution. These provide pleasant relaxation places for tourists to swim and sunbathe along the shores of the Indian Ocean.
Culture. Some of the tourists who come to Kenya are attracted by different cultures of Kenya's people. Cultural attractions include traditional dances, clothes, food and artefacts.
Games and sports. Tourists come to the country to take part in international games and sporting activities like marathons, boat races, camel derby and safari rally.
Kenya has many popular tourist attractions, including Fort Jesus which is pictured here.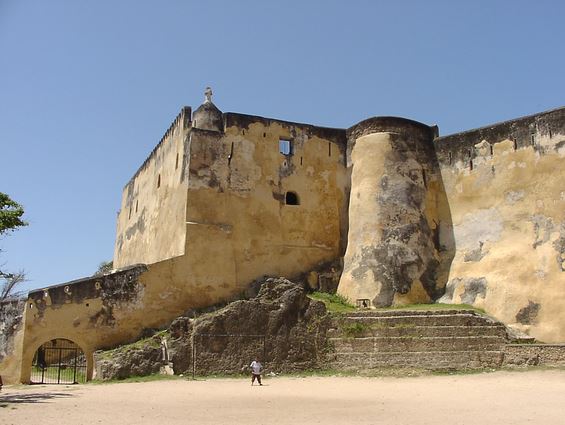 Benefits of tourism
1. Tourism eatns kenya foreign exchange.
2. It generates revenue for the government in form of taxes.
3. Local hotel earn money from tourists through sale of food and accomodation.
4. It has led to the development of other industries, for example, agriculture.
5. It has led to the growth and development of some towns in Kenya, for example, Narok Town.
6. The tourism industry creates employment opportunities thereby improving the standards of living of people.
7. Tourism improves international relations as people learn and respect each other's culture.
8. Tourism leads to exchange of ideas and increase in foreign investment
9. Promotes wildlife conservation and protection of cultural and historical sites.
10. It has led to the development of transport and communication networks. For example, roads, railway lines and airports.
11. It has promoted the local industry and created a source of income for many people, for example, those working in the weaving and carving industry.
Main tourist attractions in Africa
Tourist attractions in South Africa
The following are tourist attractions in South
Africa:
a) Addo Elephant
b) Krugger
c) Karoo
d) Garden Route
e) Ritchersveld Transfrontier
National heritage sites/ historical sites
a) Barville
b) Elmhurst
c) Glendour d) Kasouga
e) Kruizemuntfontein
f) Roben Island
a) Robe Hoek
b) Blue Lily's Bush
c) Kalogha
d) Inyarha (Nyara)
a) Vredefort crater
b) Drakensberg and Table mountains
c) Mining sites at Witwatersrand
d) Mountain catchment areas like Hawequas, Winterhoek and Swartberg
Similarities between tourist attractions in Kenya and Switzerland
1. They both have beautiful scenery, especially waterfalls, mountains and valleys.
2. They both attract tourists who enjoy mountain climbing.
3. They both have cultural attractions the Samburu and Maasai dances while in the Switzerland, there are attractions like the Mountain Jazz festival.
4. Most of the tourists who visit both countries come from Europe and North America.
Differences between tourist attractions in Kenya and Switzerland Kenya Switzerland
1. It is near the equator therefore it experiences hot and sunny climate throughout the year.
Switzerland
It is far away from the equator, therefore it experiences summers and severe winters.
2. Kenya's main attraction is wildlife.
Switzerland
Its main attraction is its cold weather and the scenery, especially the glaciated features in the highlands and the snow capped mountains
3. Kenya has sandy beaches.
Switzerland
It is landlocked and has no beaches.
4. Main sporting activities in Kenya include mountain climbing, surfi ng and water snorkelling.
Switzerland
Tourists are attracted to cold climate that enables them to take part in winter sports like
skiing and to stay in ski resorts.
5. It has a variety of vegetation including tropical rain forests and hot desert vegetation in the north eastern part.
Switzerland
It mainly has temperate vegetation with coniferous trees.
6. Kenya's attractions include historic sites like Fort Jesus and the Vasco da Gama Pillar.
In Switzerland, there are mainly castles and chateaus.
7. The Great Rift Valley is an important attraction in Kenya.
Switzerland In Europe, there is a small rift valley in
Germany which borders Switzerland.
Tourism attractions in different regions of Africa
Different things attract people to different parts of Africa. Different tourist attractions from different parts of Africa are shown below.
a) South Africa
The following are tourist attractions in South Africa
i) Cape Ranges
ii) Robben Island
iii) The Drankersberg
iv) Verwoer Dam
v) Vaal Dam
vi) Coastal beaches near Durban
vii) Kruger National Park
viii) South African culture and traditions
ix) Table Mountains
b) Kenya
i) Prestoric sites like Olorgesailie,Koobi Fora, Fort Ternan, Kariandusi and Hyrax Hill.
i) Historical sites like Vasco da Gama Pillar, Fort Jesus and Gedi Ruins.
ii) National parks and game parks likeMasai Mara, Amboseli, Tsavo East and Tsavo West.
iii) Warm sandy beaches of the coast
iv) Beautiful seceneries like mountains and the Great Rift Valley.
c) Egypt
It has the following destinations:
i) The hot Sahara Desert
ii) The Suez Canal
iii) Lake Nasser and Aswan High Dam
iv) The Pyramids of Giza
v)Theebes Town.
d) Zimbabwe
It has Kariba dam, the Victoria falls found between the boarder of Zambia and Zimbabwe, Ghonarezou park which is home to wildlife and the Zimbabwe ruins which attract tourists.
e) Mauritius
Mauritius has coastal sand beaches, warm climate, some volcanic features and historical sites that attracts tourists.
f) Morocco
It has sand beaches, the Casablanca, Marrakech and Fez which are ancient towns in Morocco.
Contribution of tourism to the economy of Kenya
a) Tourism earns Kenya foreign exchange.
b) It generates local income for the government in form of taxes.
c) Local hotels earn money from tourists through the sale of rooms and food.
d) It has led to the development of other industries; for example, agriculture.
e) Facilities developed because of tourism are available for the local people to use.
f) The tourist industry creates employment opportunities.
g) It has led to the development of infrastructure. For example; roads, railway line and airports.
h) Tourism leads to exchange of ideas and an increase in foreign investment.
i) Tourism may improve international relations as people learn and respect each other's culture.
Contribution of tourism to the economies of African countries
a) It earns countries foreign exchange .
b) It has lifted the living standards.
c) It is a source of employment.
d) It has led to the development of infrastructure and social amenities.
e) It has enhanced wildlife and environmental conservation.
f) It has led to the development of other industries such as, agriculture and hotel industry.
g) It has led to the preservation of culture, historical sites, monuments and artefacts.
h) Through exchange of ideas, Africans are able to learn new ideas from tourists.
i) It has improved international understanding.
j) It has created markets for local goods. For example, Maasai market in Nairobi and Akamba market in Mombasa.
Challenges facing tourism in Africa
a) Wild animals in the game parks and game reserves sometimes die due to drought.
b) Wild animals are killed by poachers for food or for their horns. The most endangered animals are elephants, rhinos, leopards, antelopes and gazelles.
c) Some animals are affected by pests and diseases like nagana.
d) Foreign cultures introduced by foreign tourists erode African culture.
e) Conflict between people and wildlife. f) Terrorist attacks scare away tourists because they feel that their life is in danger.
g) Insecurity is a great threat to tourism industry. For example, Kenya's 2007 post election violence.
Possible solutions to challenges facing tourism in Africa African countries should do the following in order to improve tourism:
a) Improve security in all parts of their countries.
b) Improve the standards of transport and communication facilities.
c) Lower entrance fees to parks in order to encourage local as well as foreign tourists.
d) Improve hospitality facilities. For example, hotels to attract more tourists.
e) Advertise the country's tourist attractions in order to market the country abroad.
f) Create more tourist attractions.
g) Conserve the existing tourist attractions.