Uasin Gishu County
Introduction
Uasin Gishu county covers an area of 2, 955km2 with a population of 894, 179(2009).
It is one of the 47 counties of Kenya, located in the former Rift Valley Province.
The city of Eldoret (capital and largest town in the county) is the county's administrative and commercial centre.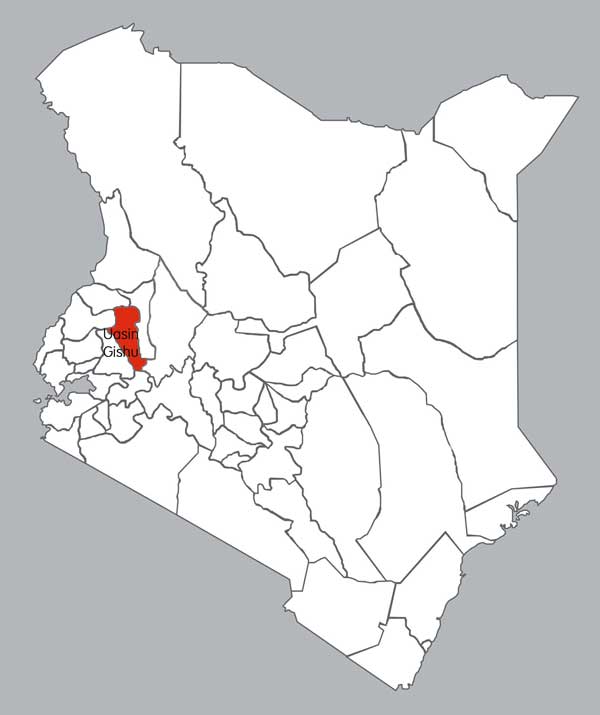 Constituencies
Ainabkoi Constituency
Kapseret Constituency
Kesses Constituency
Moiben Constituency
Soi Constituency
Turbo Constituency
The main physical features
Rivers
Naiberi River
River Marun
Lakes
Hills
Cherengani Hills
Kipkunur Hill
Mountains
Kameleogon
Chebon
Chepkotet
Alaleigelat
Sodang Mountains
Plains
Valleys
The importance of physical features
The forest attracts rainfall | water catchment area.
Tourists attraction.
Source of revenue to the county e.g. timber.
Animal habitat.
Forests help in hunting and gathering.
Rivers are an aid to fisheries.
The main types of natural vegetation
The importance of vegetation
The forest attracts rainfall hence a conducive climate for farming.
The vegetation regulates the temperatures.
Biogeochemical cycles, like that of water, carbon and nitrogen are also regulated.
Map of the Distribution of natural vegetation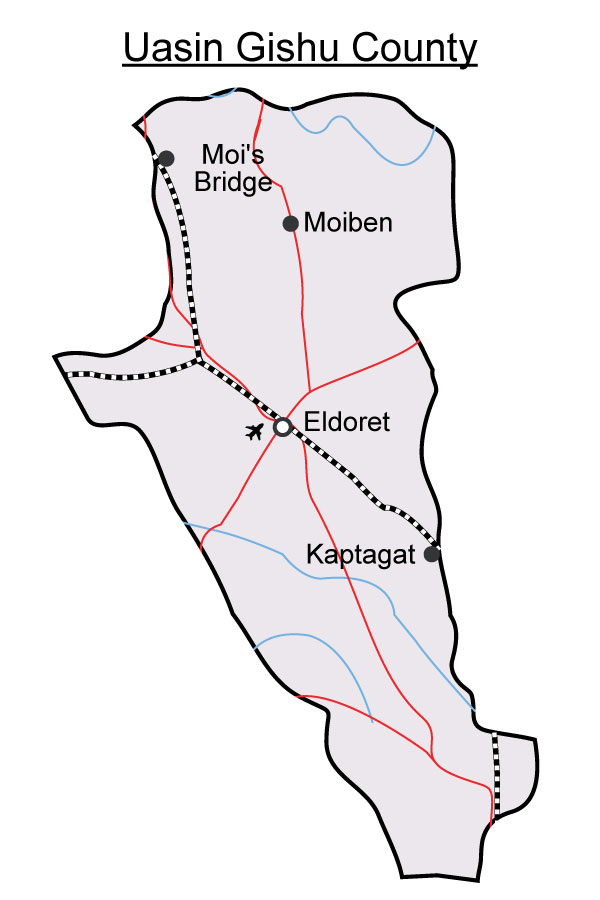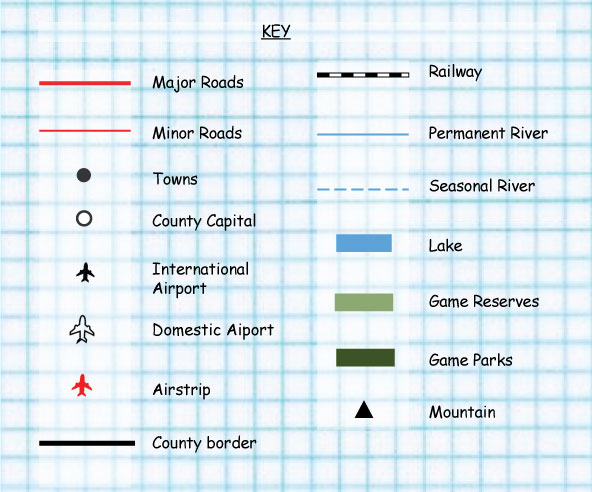 People and population
The language groups
Kalenjin is the most dominant tribe. Others include Luhya, Kikuyu, Luo, Kamba, Kisii.
Areas of high population density
Eldoret
Ainabkoi
Kapseret
Kesses
Moiben
Eldoret
Turbo.
Areas of low population density in the County
Moi's Bridge
Chebiemit
Timboroa
Kaptagat.
Social relations and cultural activities
The traditional way of life of the people
Food
Animal and farm products as semi pastoralism and farming are commonplace. The staple Kalenjin food is 'kimyet' or 'ugali', lunch and dinner being the main meals of the day. Their popular beverage is 'mursik' a fermented whole milk that is stored in a special gourd and cleansed by using a burning stick.
Dressing
Customary kalenjins clothing was made of the skins of either domesticated or wild animals. Both male and female kalenjins wore earrings made of heavy brass coils that stretched the earlobe down to shoulder level. However, today the kalenjins have adopted modern style of dressing.
Songs and dances.
A stringed instrument traditionally accompanied singing but is now becoming rare.
Traditional medical practices.
Herbal medicines were used provided mostly by traditional doctors.
Ceremonies
A ceremony was held where the elders decided which ancestral spirit has been reincarnated in the new born.
This is the most important larger ritual amongst the Kalenjin. It is called 'tumdo'.
Festivals
After harvest the people held a festival called 'kipsunde'.
Music accompanied various occasions and ceremonies where stringed instruments were plaid.
Drama was common during recreational activities.
Resources and economic activities
Agriculture
The main cash crops and food crops grown
The staple crop was eleusine but maize replaced it during the colonial era. They also grow sorghum, beans, pumpkins, cabbages and pearl millet.
Tea is grown is some parts of the region in large scale for exportation. Other cash crops include surplus maize and milk.
The areas where the cash crops are grown
Regions by Kericho, where tea is grown.
Uasin Gishu Plateau – wheat and pyrethrum is also grown here.
The types of livestock kept
Fishing
Areas where fishing is practiced
Forestry
Major forests in the county
Wildlife and Tourism
Types of wildlife
Elephants
Giraffes
Antelopes
Buffalos
Lions
Zebras
Cheetahs among others.
Name and location of the game parks and reserves in the county
Rimoi National Reserve
Kakamega Forest National Reserve
Kerio Valley National Park
Poa Place Nature Park; having a variety of snakes and other small animals.
State the major tourist attractions
Sports tourism as a result of its renowned world runners e.g. Kipchoge Keino.
Agri-tourism; traditional maize and wheat farming, horticulture.
Wildlife tourism; The Parks and Reserves have a variety of wild animals like Elephants, giraffes, antelopes, buffalos, lions, zebras, cheetahs among others.
Iconic landscape; scenic view of the Great Rift Valley, the Kerio Valley Escarpment, Koromosho Waterfall, Kesses Dam.
Others include Mount Elgon and Koitalel Arap Samoei Museum.
Industries
Traditional industries in the county and products
Art Industry – Blacksmith's art was passed down to families in particular localities.
Pottery - some women specialized in pottery.
Farming – the kalenjins have engaged in farming since time immemorial.
Trade
The major trading centers
Eldoret town being the major trading center in the county with industries (Textile Industry for instance), supermarkets, malls, curio shops along main roads etc.
Regular local markets and location/sub location centers.
Tourist sites, e.g. The Parks, Reserves, Naiberi River Camp Site, the Poa Place etc.